Hello dears! It's that time again where I wish you all a very happy #RTCommunityDay! Are you wearing your RT Merch today? Going to a community event? Whatever you're up to, I hope you have a lovely day!
So yes, I skipped to the May #RTBox as it arrived in better time. If you'd like me to do a look/review for the April one please let me know via DM or comment or whatever, I'd be happy to! So, this box included:
- Camp Camp Space kid t-shirt
- Camp Camp song metal plate
- RWBY Yang eye glasses
- Gavin nose "Loser" tattoo decal
- Naked Gus Pin
- No Wet Bread towel
- RWBY Chibi Collectable Card (1 in 5 signed)
- Camp Campbell card with letter from Miles.
This was certainly an interesting box, with new ideas for products being introduced. If I'm honest I won't really be using any of the items from this box too much, as much as folks complained about the pens that's the things I use the most (other than the shirts of course!). The quality of this shirt wasn't as great as previous ones (RT usually prints on Anvil brand shirts or American Apparel) but this one is like the heavy cotton of the old style shirts. Not important to some, but something that is pretty noteworthy to me! Anyways, onto how I styled it for RTCommunityDay!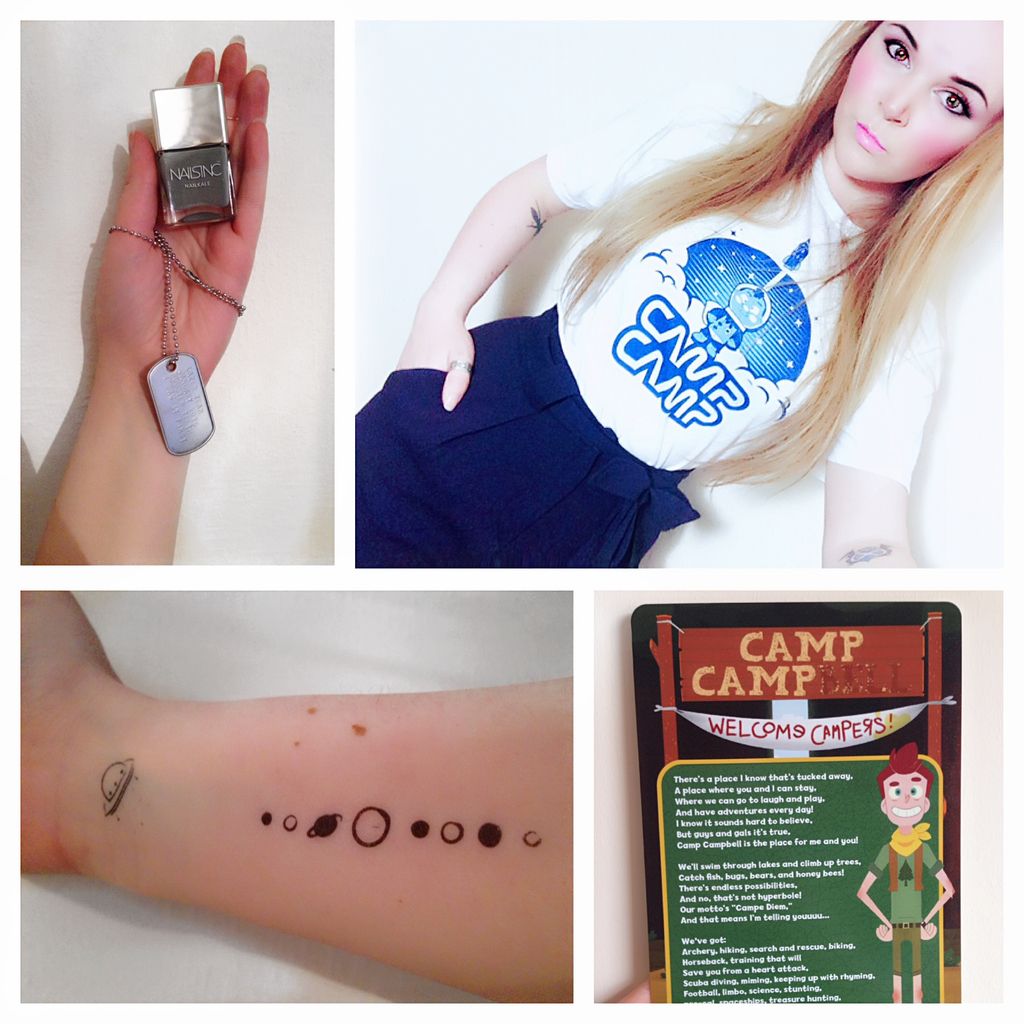 Since the shirt is blue and white, I wanted to continue that theme throughout. I really love this colour combo as it's perfect to keep cool in summer with floaty linens but can also be smartened up for a dinner date or work! If you're going casual, pair with your trusty white converse all stars. I also liked adding a few space-themed temporary tattoos, as well as my Lazer Team dog tags and some moonrock-grey nails to complete the subtle nod to the space camp style! For more spacey ideas, add some silver accessories, or a seriously cool pair of silver brogues! YES MORE SHINEY ok I should go lie down...
How did you wear this shirt? Show me or let me know by tagging me here @ailsarocks or @RTFashionable on Twitter.
But remember, be proud to wear it YOUR way! I hope you all have another lovely RTCommunityDay.
Stay Fashionable