The land that we are about to trek to is quite the crazy place. The place has very little habitable land, elemental gemstones take the place of conventional fossil fuels, and there is danger everywhere. Thankfully, this world is protected by various teams that would seek to do it harm. I'm of course, talking about…
Atmos.
What? Were you expecting Remnant? - C'mon. Remnant is TOTALLY different from Atmos. For starters, Atmos has an actual communications system that DOESN'T require multiple comms towers to be active for long-distance communication. Seriously. Atmos is smart like that. 
Also, Atmos has flying motorcycles. Let's see THAT in Remnant.
But speaking of smart…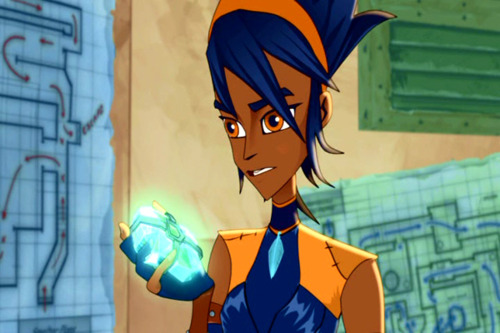 BACKGROUND:
Full Name: Piper.

Species: Human.

Height: 5'

Weight: 95 lbs

Ride: Heli-scooter.

Weapon of choice: Energy Staff.

Role: First Officer, Navigator, Crystal Specialist.
Meet Piper. The resident genius, and token girl of the illustrious Storm Hawks - A team of highly skilled Sky Knights that are sworn to protect the world from the evil Talons of Cyclonia -
No. Not these guys. These guys are dead. Thanks for that, Ace.
Yes these guys. The ones that are alive… And younger than your typical squadron, but that's beside the point.
Despite being the much more intelligent, and level-headed of the group, Piper is technically second-in-command of the squadron. Being an expert in dust CRYSTAL mastery can do that. HELL! She managed to get to where she is by trial and error, which proves how powerful and skilled she really is. - ESPECIALLY considering that she and the rest of the Hawks are orphans who basically lack formal educations.
Like most crystal users in the World of Atmos, Piper uses a staff for combat, one that can utilize different crystals for different effects. Being one of the rare types of people who can actually master crystals, AND summon the effect of the crystal without the need of a crystal staff.
CRYSTALS (Commonly used):
Energy (Basic attacks)

Fire (Fire (duh))

Drizzle (Water)

Wind (Wind (also duh))

Eruption (It erupts stuff)
Unlike her teammates, Piper uses a Heli-scooter. While not as fast as a Skimmer, it more than makes up for it in fuel economy and maneuverability.
Piper is literally the ONLY one to be able to take on Master Cyclonis one-on-one, and not only does she survive, but she sometimes wins. And it IS worth noting that Cyclonis is the type of person who would shrug off the loss of a powerful weapon capable of decimating entire terras with the phrase "You win some, you lose some."
It's also worth mentioning that the rest of her squad probably would have died had it not been for her, her plans, tactics, ingenuity, and general "Piper-ness" had she not been there. Good thing she's on the good side!
Just ignore this possible future that Master Cyclonis showed her to sway her over to the dark side…
Erhm, Back to the heroics, Piper is capable  of punching the brute Snipe over some trees! And considering that Snipe weighs in at about 120 pounds, that's a lot of power for someone with so little visible muscle mass.
Piper is quick enough to react to events in under two seconds (Trust me, I timed it), resourceful enough to infiltrate a Cyclonian training facility, and is brave enough to stare down Master Cyclonis' Oblivion Crystal.
- Granted, this was because she exploited the fact that Oblivion Crystals can't work on friends - even former ones, but that's beside the point. She managed to befriend Master Cyclonis, and avoid complete oblivion… It's a complicated story that fuels the slash fiction between the two.
Despite her track record, Piper isn't invincible. While her Heli-Scooter is maneuverable, it lacks the durability and firepower of an actual Skimmer. Also, she does have a tendency to get irritated by her teammates, though, that might have to do with the fact that they often ignore her well-thought out tactics.
WEAKNESSES:
Irritability.

Young age means low experience.

Terrible flirt.

Crystal reliance.

"Sour Storm Hawks aftertaste." - Master Cyclonis, S2E1.
Piper is also able to use an ability called "The Binding" an ability that would allow her to imbue herself and others with the power of crystals, letting her fly on her own. She can even power up her friends, to the point that they can take on nearly anybody. Not to mention, that this is just her at the very start of having this ability, meaning that it is very likely that with more practice, she could do god-like things with her powers.
Together with the Storm Hawks, she has managed to assist in the liberation of an entire prison, go toe-to-toe with Raptors, defeat the enhanced Talons, be one of the very few to break into the stratosphere, help take down the equivalent of an orbital cannon capable of decimating entire terras, and is skilled enough to match a Rex Guardian in a Sky-Fu competition (She won after exploiting a loophole in their ridiculous rules).
For her and the rest of the Storm Hawks, the sky is NEVER the limit.
POTENTIAL OPPONENTS:
Because being a master of dust is TOTALLY not at all like being a Crystal Mage. Nope not in the slightest… Seriously, am I going nuts here? Like, I get that there are some differences, but there are some similarities that I can't un-see. Dust is Crystals, Hunters are Sky Knights, and need I make the connection that both have a femme fatale big bad? - Seriously, I feel like I'm the only one who's seeing the parallels here… At least Atmos doesn't leave only two guards to protect an entire border, so maybe Atmos has a better army than them… Wait… Piper actually BROKE through the stratosphere. Remnant hasn't.
Acrobatic girls who have a vague homoerotic relationship with their arch rival… Also, both are experts in their field through experience alone… Also, their vehicles are just plain cool. Neat hair too, and while I'd love to have Piper do battle with Aang in an aerial fight that never touches the ground, I feel that this is also a neat idea to use… mostly so angry AtLA fans don't get at the hosts' throats.
So, when I started this sheet, I was only planning on Weiss being the opponent on account of the similarities that are TOTALLY a coincidence. Then I realized that I put myself into a corner with trying to find some other options. So, how about a motorcycle fight? - Anyone? Anyone at all?