So if you've been waiting on my character analysis of Inuyasha... that's gonna be a while longer.
For now, here's a little battle between two other half-demon warriors.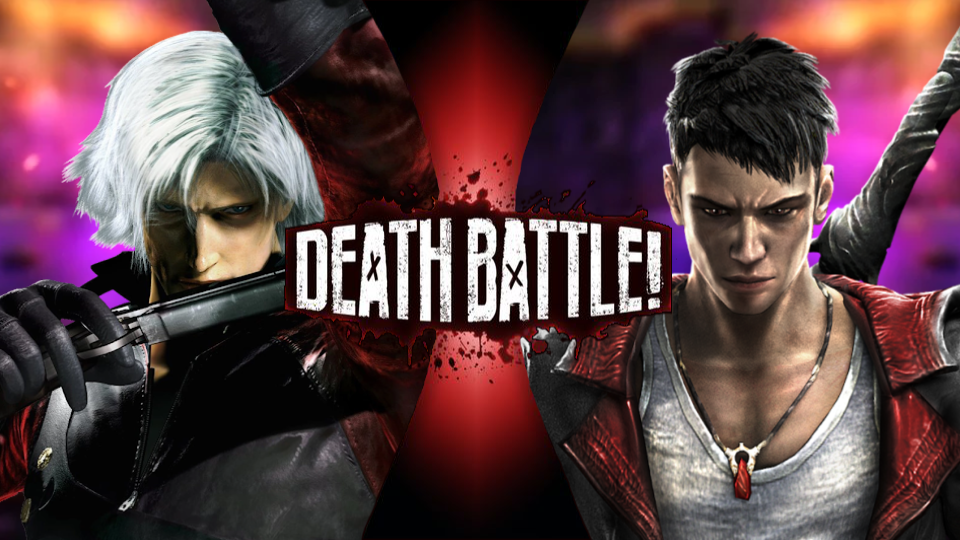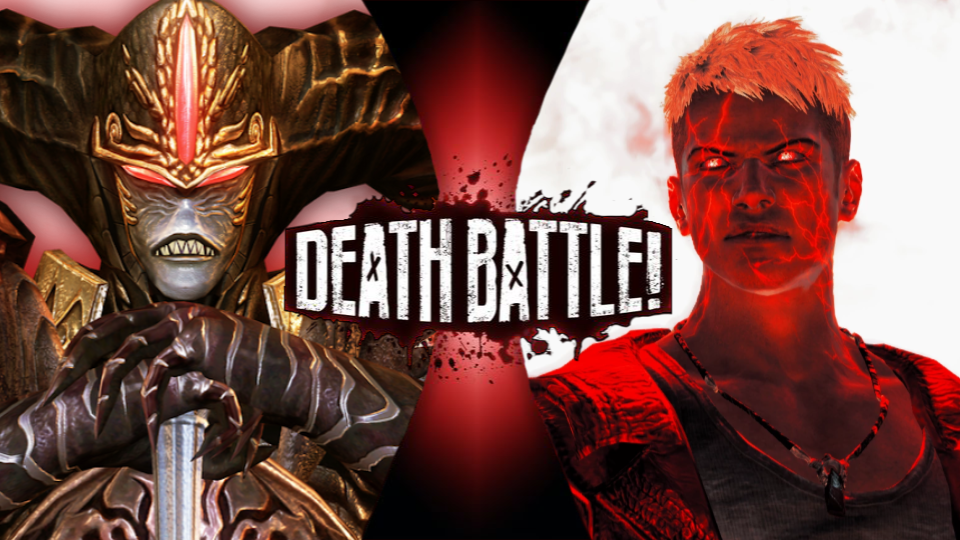 And before you ask, no, I don't want this to become an actual Death Battle: this was just something I decided to write up on the DBF Wiki.

Enjoy.
Limbo City
Business hadn't been doing so well for Dante and Devil May Cry. Aside from the usual debt he was perpetually drowning in, it seemed like no demon he took care of interested anyone anymore: it was like he had faced every kind of demon there was.
He decided to take a big gamble: word was that there were sightings of demons in this city, each different from his usual fare. If he could find and showcase some of these "new" demons at Devil May Cry, maybe that could spark some interest and revenue. Or so Dante hoped. He knew if this gamble failed that Morrison would never let him hear the end of it.
Nonetheless, Dante simply wandered across the town whose people didn't even bat an eye at his red coat: it was like they were too brainwashed to care. He decided to start his search at the most popular night club in town: Devil's Dalliance. If that name didn't promise the presence of demons, he didn't know what would.
He walked towards the door when someone's arm stopped him: a bald bouncer in a black suit and bow tie with a clipboard in his hand and a bandage over his nose.
Bouncer: You're not on the list. Beat it.
Dante simply smirked with a "Oh really?" expression as the bouncer eyed him. Upon looking at his coat, gloves, and boots, as well as his face, the bouncer was struck with the worst case of déjà vu. He recalled telling off another young man who wasn't on the list, only to be punched in the face and knocked out. Suddenly, it was like the two were in the same place, one and the same. His nonexistent facial expression cracked at the seems as he shook in terror.
Bouncer: Just... just pulling your leg! I knew you'd be here. Please, come right in.
He moved to the side hurriedly as Dante entered the night club without any further hassle. Just from taking a gander, there wasn't anything of demonic make just yet: just strobe lights, neon decor, stripper poles, and dancers sporting angel wings. Not the kind of place Dante would normally visit and he doubted the bartenders would have the ingredients to make him a strawberry sundae. He simply continued traversing the place, his presence undetectable to everyone inside...
Or so it seemed. Suddenly, white text emerged on the walls along with a demonic voice:
???: DANTE!
Dante looked over at the people around him only to find them completely oblivious to the ordeal... and fading, almost like shadows. Unknown to the seasoned demon hunter, he had been taken into Limbo.
On an upper area sat someone in a white tank top, faded black jeans and boots with a red pendant around his neck and sporting a curious black hairstyle. He drank from a bottle while surrounded by some of the dancers from downstairs. He heard the same voice as the demon hunter.
???: DANTE!
This Dante simply shrugged in minor annoyance.
DmC Dante: Really?
The women he was with faded away as he reached for his faded black and red jacket, which was on the stool next to him.
The entire landscape of the night club shifted, almost as if reality was warping before Dante's eyes: the speakers rose and floated upward, the dance floor glowed an orange patterned hue, and large rectangular walls grew out of the ground to surround him while also moving to the club's music.
Dante: I'll admit it, you've got a pretty neat gimmick there. But where are you?
???: Wait... you are not Dante...
Dante: Want me to show you my birth certificate?
???: This one is different.
Dante: Look, I can stand here and wait while you sort this out or we can get down to business. What'll it be?
No response from the voice. Dante simply tapped his foot, looking up at the upper area past the walls. It sounded like demons were gathering above him, but they were going in the other direction.
Dante: No loss. There's better game out there.
In mid-sentence, he saw a red-masked demon in a tattered black robe appearing above him, staring at him upside down. As per usual, nothing would faze him.
Dante: Hello there.
This demon disappeared, then reemerged standing a distance from him. This demon, the Drekavac, drew two twin swords and pointed one at Dante.
Dante: Now you're exactly the kind of demon I've been looking for.
These demons, Stygians, amassed around DmC Dante and watched as he put one hand through his jacket, and noticing nothing else in his hands. One swung its blade at him as DmC Dante swerved to avoid it, grabbed hold of the bottle from before and swung it into the demon's jaw.
Dante and the Drekavac charged towards each other as both the demon's blades clashed with Rebellion.
DmC Dante tried getting his other arm into the jacket as two more Stygians tried to get the jump on him. He grabbed one's arm and used its blade to deflect the other's.
As Dante gained the upper hand, the Drekavac teleported a short distance away before it could be struck. He thought nothing of it: if anything, it was a fun bout thus far.
The two Stygians flew backwards in opposite directions as DmC Dante leapt into the remaining ranks, uppercutting one into the air, booting another away, gut-punching through the next, and slamming one face-first to the ground with just one hand.
The Drekavac went on a teleporting frenzy, trying to find an opening or even get Dante to flinch, but the demon hunter blocked or moved his head to avoid its slashes.
Two left and DmC Dante saw one slashing from below and one higher. He jumped, swerving in midair to avoid both, then grabbed hold of both Stygians' blades. The two were lifted off their feet, then sent crashing into each other, their blades piercing one another. He then jumped over them, grabbing each of their heads, and slammed them into each other as hard as he could. Their porcelain doll-like faces shattered as DmC Dante finally got his jacket on entirely.
He couldn't help but hear commotion below him. Without even looking below him, he leapt high above to see what was going on for himself.
The Drekavac was out of sight and Dante had a feeling he knew where it was headed. He turned around and caught the demon red-handed; Rebellion and the dual blades in a power struggle. He grinned as he continued pushing the demon backward.
Dante: That was fun, but now...
He shoved the Drekavac back, just long enough for an exposed strike. He took out Ebony and Ivory and took aim for his head.
Dante: Jackp...
Before he could make his trademark quip, something came crashing down onto the Drekavac, severing its head from its body and leaving a slice in the ground. He looked over at who he perceived as some kid, who had taken his kill from him with a sword like his.
DmC Dante: You're welcome, pal.
Dante: I had that one.
DmC Dante: 'scuse you?
Dante: I came all this way for him and I'm afraid I just can't have you taking the credit for this one.
DmC Dante: Well if you couldn't kill him before I got there, then I don't see how that's my problem.
Dante: I've been in this business for a long time, so how about some professional courtesy, kid?
DmC Dante: Seems more to me like you're lost, old man. You even know you're in Limbo right now?
Dante: I'm getting a little tired of your attitude, punk. *points*
DmC Dante: And I'm sick of your smug superiority, old-timer. *points back*
Dante reached behind him for Rebellion's handle and swung it as quickly as he could, only to see it caught by DmC Dante's own Rebellion.
Dmc Dante: You asked for it!
With his other hand, he punched Dante in the face. Dante was surprised at how hard he was hit by what seemed to be a scrawny teen in a jacket, but upon wiping his lip with his gloved hand, he smirked back at him.
Dante: This party's about to get crazy.
He twirled his sword around as DmC Dante cracks his neck.
DmC Dante: Let's rock!
Dante thrusts his sword forward.
Dante: That's my line!
DmC Dante followed suit as their Rebellions were about to collide once more.
FIGHT!
Upon their two swords striking head-on, the two Dante's immediately transitioned to another stance, during which they rapidly stabbed with their respected Rebellions. The swords either bounced off one another or missed their mark as the two continued their assault. DmC Dante's guard finally gave out as his classic counterpart went for one final stab to end it all. As he aimed true enough, he soon saw that DmC Dante had matrix-dodged it, then swung his Rebellion at his feet. He jumped upward and bounced off of the blade, then went for a kick, only to see his boot barely miss his opponent's swerving upper body.
The two span in place for just a moment, then their swords met in a power struggle. Dante smirked as he pushed his DmC counterpart back before swinging Rebellion upward. DmC Dante blocked the blow, but was struck high into the air.
DmC Dante: Whoa!
Dante simply pointed Ebony and Ivory upward at his foe and fired away, only to hear the sound of similar weaponry: DmC Dante's own twin handguns. Their bullets richocheted off of one another, then began bouncing off the walls. Dante leapt upward to avoid some bullets redirected back at him, but still kept his aim true, as did DmC Dante. Finally, the two landed to the ground, the bouncing bullets having finally stopped moving, and the two with only a few bullet holes in the bottom of their coats.
Dante: Your toys ain't bad...
He put away his trademark firearms and instead reach for another set of twin weapons.
Dante: But they're still just pale copies.
DmC Dante didn't take the insult towards his lineague's weapons lightly and went for a downward swing, which Dante sidestepped before unleashing a fire-enhanced slash, which his DmC counterpart blocked. He was then met with a wind-powered slash, which sent him crashing into one of the bouncing rectangular walls. He fell to the ground on his hands, leaving cracks in the wall, then grasped his chest.
Dante: Got anything of your own?
He swung Agni and Rudra rapidly before stabbing both into the ground, creating a massive flame that headed towards his opponent. He then saw the flames put out by what appeared to be the head of an axe. Dante looked over and saw his opponent with the heavy axe Arbiter.
DmC Dante: How about this?!
Dante went for a block with his blades, only to find it broken by the sheer weight of the Arbiter's first swing. The next struck him dead-on, sending him rolling. DmC Dante's third swing created what seemed to be an afterimage of the impact, which crept forward as Dante got into a blocking position once more. This time, before the attack could strike him, what looked like a fiery twister surrounded Dante, putting out the attack.
Agni: Ashes to ashes!
DmC Dante: Umm... what?!
Dante then flew above his DmC counterpart, unleashing a more powerful vortex of flame.
Rudra: Dust to dust!
Dante ceased his attack and held both weapons in front of him.
Dante: No talking!
The voices of the blades remained quiet as he looked and saw no signs of his opponent.
Dante: Just as I figured... too easy.
K.
Suddenly, a scythe-esque weapon struck Dante, then yanked him up into the air as he saw his opponent, who didn't show even a single singe mark on him from before.
DmC Dante: You underestimated me!
Two swings kept Dante in place, then DmC Dante span Osiris above his head rapidly, knocking Dante upward further before sending him flying backward. The two landed on their feet, then DmC Dante lunged forward with a sweep, only to find Osiris caught by Agni and Rudra. He was flung behind Dante, but flipped in midair so his feet touched the walls. He jumped off, launching Arbiter's axe head once more, which Dante swung at with Rebellion. To DmC Dante's surprise, it was swung backward like a baseball struck by a bat.
Dante: Batter up!
DmC Dante barely avoided it by a hair... or several.
Dante: See? Gave you a haircut. You're welcome.
DmC Dante: Says "Anime Hippie" here.
Dante wasn't wounded by his words, but nonetheless put away Rebellion and charged in for a punch. DmC Dante saw the move clearly choreographed and met it with one of his own...
Each with their own gauntlets: the dragon-faced Ifrit and the metal red Eryx.
The two stood in place and boxed fairly evenly before both went for a ducking uppercut. The two flew upward until DmC Dante slammed Dante downward with Eryx. Dante struck the ground so hard he bounced back upward, then was slammed back downward once more. As DmC Dante landed, he was met with a fireball approaching him. He simply punched it, which did the trick, but left him open to a fiery roundhouse kick. He stopped himself from flying all the way back by punching at the ground, leaving a trail until he stopped.
He tore his embedded fist out of the floor, then saw Dante launching another fireball. He stepped backward, then stepped forward with a right hook. Dante span for just a moment before unleashing a flurry of kicks, which DmC Dante could barely keep up with. Barely, though he managed to some exhaustion. Seeing an opportunity, Dante surrounded his body in flames. In the face of this, DmC Dante simply charged his fist for one single powerful strike. Dante gave no thought to it and unleashed a wall of fire, which seared everything in front of him...
...almost everything. Before he even saw DmC Dante unharmed, all he saw was Eryx striking him straight in the face. The sheer force sent him flying into the wall he had knocked DmC Dante into earlier, only this time, the sheer force sent him crashing through it.
In front of the entrance to Devil's Dalliance, nothing was amiss at all. Within Limbo, Dante flew out of the club, then rolled through an alleyway before finally stopping himself against a mailbox towards the streets of Limbo City. DmC Dante stepped towards him, his own Rebellion over his shoulders confidently.
DmC Dante: Had your fun yet, gramps?
Dante spat on the ground, with just a touch of blood in his saliva.
Dante: You drew first blood, so I guess I'm going to have to start taking this seriously.
DmC Dante saw a parked car a short distance behind him, then struck it with Ophion. He then pulled it in Dante's direction, launching the car right at him.
Dante: That's cute.
He didn't even move his legs: he simply cut the car in half with Rebellion, then stabbed the sword through one of the halves before tossing it back at his DmC counterpart. DmC Dante hopped off the thrown half and fired Ophion. Dante jumped high into the air and took out Ebony and Ivory.
Dante: You missed.
Instead of indulging him to what he already knew, DmC Dante simply grinned at him. Dante knew something had to be up, but aimed all the same. He saw Ophion retracting back and then pulled the trigger, getting off a few shots as some kind of thin and round weapon knocked away his shots. Just then, he was struck on the back of the head by part of the wall which Ophion had pulled into him. DmC Dante then fired at him with his shotgun Revanent, knocking him further back before he was met by the spinning shuriken-esque weapon Aquila.
DmC Dante: And you can stick around.
In the real world, nothing that had occurred in the battle thus far had a visible effect on Limbo City or its drone-like denizens. None could see or hear what was transpiring between the two Dante's...
All except for one. A young woman in an orange jacket with a white hood, shorts and boots, and with a star tattoo on her forehead. This woman, Kat, heard what clearly sounded like a shotgun and turned to find its source.
Kat: Is that...?
DmC Dante: And you can stick around.
DmC Dante began charging Revanent for a more powerful shot when he caught a familiar face in the corner of his eye.
Dmc Dante: Kat?
Kat: Dante, what are you doing here?
She turned and saw what seemed to be another man in a trenchcoat kept in place by Aquila.
Kat: Who is that?
DmC Dante: Can we talk about this later? I just need to...
Dante: Pay attention, kid!
DmC Dante turned and was struck by a pair of icy nunchakus, Cerberus.
Around the same area was a woman in black pants, boots, and corset with long blonde hair. Trish had a feeling Dante was in this town looking for demons for his business. No sign of him yet...
Kat: Dante!
Trish ran over to Kat to investigate.
Trish: You see him?
Kat: Do you know him?
Trish: Where is Dante?
Kat: He's in Limbo... fighting someone. I can barely make him out, but he's not a demon... or a human.
As much as DmC Dante wanted to listen in to Kat's conversation, he knew after that last blow to pay attention to the fight and had been fending off Cerberus with Aquila. He was caught off-guard by ice pillars springing in front of him and proceeded to shatter each with Revanent, only to be met with a huge mass of ice that surrounded his opponent.
DmC Dante: Playing hard to get, is that it?
He began chipping away at it with Rebellion while Dante sat on a mini ice pillar, waiting for him to get through.
Dante: C'mon, put your back into it.
Instead of cutting it further, he launched Ophion into it, then tugged as hard as he could. The mass began to crack and finally the front gave out, covering that area of Limbo with shards of ice. Just as he had done this, he saw Dante sliding toward him on his knees, wielding what seemed like a guitar in his hands, Nevan.
DmC Dante: Okay, what in the...?!
A bolt of lightning struck him dead-on, followed by a swarm of bats. They didn't amount to much as DmC Dante span Aquila rapidly, cutting them down around him. More bolts fired as he jumped across the area to avoid them. He jumped toward Dante, who swung Nevan, which became a scythe-like blade, right at him.
Instead, DmC Dante dashed right past him in mid-air, as if boosted ahead by an unknown force, then Dante felt Nevan leaving his hands. It had been pulled from him by Ophion, which dragged it right to his DmC counterpart, who readied the Arbiter. In one chop, Nevan was cut in two.
Dante: You're a real lady killer, aren't ya, kid?
DmC Dante: You done holding back or what, pops?
Dante: Holding back?
A red aura began emanating from him: he began drawing power from his Devil Trigger form.
Dante: The moment I give it my all, you lose.
DmC Dante: We'll see about that.
The two drew their own respected Rebellions and in one clash, DmC Dante's blade was pushed back. With just a single strike of his palm, DmC Dante crashed into a building, leaving an imprint in the wall. He fired Ophion, which Dante proceeded to catch in his hand before pulling it with the strength of one hand, yanking DmC Dante toward him.
Kat: He's in trouble. I've gotta get him out of there.
Trish: How?
Kat had already placed a stencil on the ground and sprayed across it with a spray can.
Kat: Once this is ready, Dante can escape with this.
Trish: Let's hope he's wise enough to take it.
Kat nodded in agreement, though neither realized the Dante they were referring to was not one and the same.
Dante saw his DmC counterpart coming his way and prepared to skewer him with Rebellion when he felt gunshots strike him. He then span Rebellion rapidly, blocking any and all bullets coming his way as DmC Dante then dashed above him. He fired six more shots from another weapon, each of which Dante was more than prepared to avoid, but to his surprise, they all struck around him, not towards him.
Dante: You're finished, boy.
DmC Dante: Look again.
An explosion from all around him sent him upward and in that ensuing chaos, his Rebellion was knocked out of his hands. He was then cut twice by DmC Dante's Rebellion, then slashed thrice more, sending him further into the air. Ophion then grabbed him, pulling him back to DmC Dante, whom kicked him away toward the top of a building. DmC Dante then saw the gate that Kat had created for him, as well as his opponent's blade, which bounced off the ground. He pulled out the Kablooey and shot an explosive charge toward the Rebellion's handle. He detonated it, sending it straight into Dante at high speeds.
Dante was pinned into the building by his own weapon, his blood dripping from high above to the ground.
Kat: He did it.
Trish: He's okay?
Kat: Dante! Come this way.
DmC Dante: Coming.
As he walked calmly toward Kat's gate, he simply looked over at his fallen opponent.
DmC Dante: Guess you were out of your depth.
As his foot was about to touch the gate, he heard a strange sound, as well as a powerful presence behind him.
Kat: Get out of there, NOW!
He turned around, only to be met by a hand around his throat lifting him into the air. He looked over at this demonic being with red glowing eyes, two downward horns, and a body of insectoid and reptilian make: Dante took on the demonic appearance of his father, Sparda. As DmC Dante felt himself choking and tried breaking out of his grip, his classic counterpart pulled him closer and looked him in his eyes.
Dante: You're the one whose out of his depth, you emo fuck!
In a single bound, Dante brought the two high above the buildings. He tossed his DmC counterpart into the distance, then flew into him at high speed, forcing him straight towards a church.
Kat: They're headed for that church. Come on, hurry!
Trish took her word for it and the two ran to the church with all haste.
Inside the church in Limbo, DmC Dante made a hole in the ceiling and was then slammed into the floor, covering the room in debris. Dante simply floated upward and stood on the ground above the large crater he had created and saw his opponent bloodied, blood dripping from his forehead and from his mouth, not moving, but still grinning at him.
DmC Dante: So... it's fine when YOU talk like that.
He chuckled lightly to himself before coughing up more blood.
Dante: Stay down... or I'll put you down. Your call.
He could see his DmC counterpart was slowly trying to push himself off the ground with his hands.
Dante: Your loss.
He floated up into the air and readied his final attack. He saw his opponent gripping the red amulet around his neck, then saw what looked like red veins start to glow on his face.
Dante: Too little, too late.
From Dante's body, an aura of grey began to overtake the world. From DmC Dante's body, the world began to desaturate. The two mixed together, making it unknown which one had overtaken the other. He then saw his opponent floating off the ground, his jacket glowing red, his hair glowing white, and his eyes glowing red. Despite this...
He floated upward and shouted out in slow-motion. Quicksilver, a technique Dante hadn't used in some time, was successful. His foe couldn't hope to avoid any move he would unleash from there. Dante was ready to fly in and finish him...
Dante: Huh?
He realized that he was trapped in the air, barely able to move.
Dante: How is this possible?
Just then, DmC Dante's shout had concluded and his feet touched the ground once more: Quicksilver had expired. He jumped up to Dante and slashed as rapidly as he could with Rebellion. All Dante could do was take the hits without any hope of avoiding them: almost as if his opponent had used Quicksilver on him.
DmC Dante: A demon's got nothing on a Nephelim!
He punched Dante with enough force to send him flying out of the church, only for him to be yanked back in by Ophion. He then hopped off Dante's head to punch him back down to the ground. Just as Dante bounced and floated off the ground once more, he saw Dante charging up another punch. Just as DmC Dante began his descent...
His own Devil Trigger had expired. Dante's own Devil Trigger also ran out of juice, as the two reverted back to their original forms. He saw his opponent's downward strike and hopped out of the way. DmC Dante slammed into the ground with his fist all the same, then quickly pulled out Ebony and Ivory just as his opponent did.
The two stood eyeing each other for just a moment. Both were breathing heavily: Dante was still worn out by the onslaught unleashed earlier and while his Devil Trigger did heal him, DmC Dante still wasn't feeling at his best.
Dante: Nephelim, eh kid? Explains how you got me earlier.
DmC Dante: Still gonna drag this out by talking my ear off?
Dante: You have a point. Tell you what:
He dropped Ebony and Ivory on the ground.
Dante: No more talk...
He also dropped Rebellion on the ground.
Dante: And no more weapons.
DmC Dante didn't stop aiming at him despite the gesture.
DmC Dante: You think I'm stupid, pal?
He fired one shot each, and in that time, Dante had crossed the distance and punched him, knocking him into a pillar. Despite the speed he had just witnessed from him, DmC Dante saw his opponent taking his time walking to him. He got up on his feet and raised his fists.
DmC Dante: And no more holding back?
Dante simply nodded, then laid out his hand and waved his fingers in a martial artist "come on" fashion.
DmC Dante ran toward him and threw a punch. Dante swerved and threw one of his own. DmC Dante ducked and went for a leg trip. Dante jumped over it and aimed his next punch for the back of his opponent's head. Just then, DmC Dante turned and uppercut him in the chin while still receiving a punch to the face.
The two were throwing and blocking each other's punches, their kicks too. The two then caught one punch while striking each other in the side with the other.
DmC Dante rushed in, landing a punch to Dante's chest while Dante punched him across the face. DmC Dante gut punched him, then took another blow to his side, reeling. He struck Dante's face, then went on a punching frenzy on his chest before Dante finally caught both his hands. He headbutt DmC Dante, then punched him back several feet while also running behind him fast enough to keep pace and repeat the cycle. Finally, one kick knocked DmC right through the pillar.
He looked over at DmC Dante, who rolled across the ground before finally stopping on his back, his arms outstretched. As he lied there, DmC Dante saw his opponent grabbing his own Rebellion and charging towards him with all haste. Even with his dual demon-angel heritage, all his strengths, and all his abilities, he couldn't do anymore. He couldn't stand. He couldn't roll of the way. This was it. It was all over.
DmC Dante closed his eyes as he saw Rebellion coming right for him. Dante felt no resistance as he jammed his opponent's Rebellion straight through the ground.
K.O.
DmC Dante finally opened his eyes and saw that his weapon had been plunged into the ground next to him. He then saw Dante putting out his hand to help him up.
DmC Dante: You're... you're not going to kill me?
Dante: Don't have a reason to. Nothing for me to gain from that.
DmC Dante finally reached out to him. Dante began pulling him up...
When a massive knife went through Dante chest.
???: FOOL!!!
Dante was tossed aside as this massive creature, a hunter, looked over at his prey.
Hunter: If this one won't kill you, son of Sparda...
DmC Dante was on his knees and still in no condition to fight back and could only watch as this hunter was ready to skewer him on the spot.
Hunter: Then I will.
He thrust his knife forward...
Only for his knife to be shot out of his hand. He then turned and saw the red-coated man he had stabbed earlier flying lunging at him, his blade in hand. With just one swing, the hunter was decapitated.
Just as Dante grabbed hold of the demon's head, the battle damage done to the church in that reality faded away, as did any aura of Limbo.
Dante: So... we're out of Limbo because I killed him? Is that how it works?
DmC Dante: Yeah, that's about right.
After Dante put away the hunter's head, the two grabbed hold of each other's hands as Dante pulled his DmC counterpart to his feet.
Dante: Gotta tell you... between you and me, you're tough and you've got heart. You've still got a lot to learn, but I see a lot of potential in you.
DmC Dante: You came all this way for a demon, right? Well... you definitely got that one.
The two turned toward the church doors and saw Trish and Kat running in towards them.
Trish: There you are... and who the hell is that?
Kat: Dante!
Dante: Always happy to meet a fan of my...
He then saw that this woman had ran past him towards DmC Dante.
Dante: ...work.
Kat: Are you alright, Dante?
DmC Dante: Yeah, Kat, I'm fine.
Dante: Hold the phone... your name is Dante?
Trish: So that means both of you... are Dante?
Dante simply smirked.
Dante: Huh... small world.
Thank you very much for checking out this blog. And if you enjoyed it, then that'll make me even more happy. Either way, I hope your day is epic.