My second analysis blog, hurray.  I'll try my best to resist making awful puns with his name and the shows.
Background:
Race: Nephilim(half angel half demon)
Age: At least thousands of years old, possibly much older.
Gender: Male
Height: 6-7 feet tall
Death and the other Nephilim were created by a being known as Lillith, who was originally Adams first wife and was cast out of The Garden of Eden for refusing to submit to him.  By "mingling the dust of angel and demon" she created a being known as Absalom, and from him all the other Nephilim arose.  They were a savage race, laying siege to many worlds.  When Absalom decided to attack Eden, deciding that the Nephilim should have it instead of humanity, four Nephilim realized that continuing to attack and seize worlds could irreparably damage the balance of the universe.  The defected and fled to the Charred Council.  The Charred Council are basically the mediators of the universe, ensuring that different factions and races cooperate with one another.  These four Nephilim made a deal with the council.  They would be granted great power and in exchange they must exterminate all the other members of their race, with the help of the angels.  Death was the leader this group, The Four Horsemen of the Apocolypse, the others being Strife, Fury and War.  They were hugely successful, cutting a swathe through the Nephilim forces.  Death himself personally slew a huge number of Nephlim and even Absalom himself, leaving Death with the title "kinslayer."  He donned his mask to symbolize his role as an executioner, and he almost never removes so it serves as a reminder of his past actions.  Even though he knows that his actions were necessary, he still regrets having to murder almost all of his brethren, and until the end of Darksiders 2 kept their souls stored in an amulet, which he refused to destroy even when the Charred Council instructed him to.  Despite his cold demeanor, Death cares greatly for his siblings, particularly War.  Having wronged War at different points in the past(at one point he even killed and then later resurrected him in order for a strategy to work) he feels personally indebted to him.  The plot of Darksiders 2 revolves around Death seeking to revive humanity, both because they were unjustly destroyed, and because War was being falsely accuesed of being the one who caused their destruction.  Death is an arrogant, cold and calculating individual, yet also possesses a dry and sarcastic sense of humor, as well as his previously mentioned capacity for empathy and guilt.  Also, despite his name, he is not actually a corporeal manifestation of the abstract concept of Death, just a guy who's really really good at killing things.
Powers and familiars:
Teleportation:
Death is able to teleport across short distances.  He can use this ability effectively in combat, taking opponents by suprise and slashing them from behind.  The "teleport slash" also has various other effects, such as slowing enemies down via freezing or creating a powerful explosion around Death dealing additional damage.
Reaper Storm:
Death transforms his body into a maelstrom of bone and steel, shedding anything that gets too close.  While he can still take damage in this form, lighter enemies are flung about by the storm, rendering them helpless.
Ghoul summoning:
Fittingly enough, Death is a skilled necromancer.  He can summon up to three ghouls to do his bidding.  They will set enemies ablaze with their strikes and upon death they will violently explode, further damaging anyone they were attacking.
Crow Summoning and Dust:
Death can call upon a murder of crows to swarm and attack his enemies.  They have some power over cold, and enemies attacked by them will be occasionally be encased solid ice or slowed down.  The crows can also somehow return part of the damage they've done to enemies as health to Death.  Death also has Dust, a crow who acts as his companion and follows him wherever he goes.  While he doesn't aid him in combat, Dust will point him in the right direction if he's ever unsure of where something is.
Soul Splitter:
By separating his soul from his body and splitting it into two, Death can effectively clone himself.  His physical body will turn to stone and become invulnerable.  Unfortunately Death can still take damage in his disembodied state, and the projections of his soul cannot move simultaneously, albeit the latter could easily just be a game-play limitation.
Frenzy:
One of Deaths most powerful attack that uses all of the Wrath(magical energy) that Death currently has available.  It sends a volley of energy blasts that home in on a target and strikes them multiple times.  Death can quickly replenish his wrath reserves by physically attacking enemies.
Despair:
The Reapers trusty steed and his primary form of transportation.  When called Despair will materialize out of thin air.  While Death primary fights on foot, he is also adept at fighting on horseback.  Despair on his own is also capable of fighting, being able to one shot weaker monsters by charging into them.
Portal generation/time travel:
At a certain point in Darksiders II Death gains an ability called Voidwalker, later changed to Phasewalker, that is functionally equivalent to an Apature Science Portal Gun.  Unfortunately the only surface that portals can be generated on are specialized magic circles engraved in the walls.  Death later gains the ability to open holes in space in time, but it is never made clear if Death can control to when he goes back in time.  The time travel portals can also only be opened on specialized magic circles.
Defense/Strength enhancement:
Death is able to use magic to temporarily boost his own strength or durability.  Additionally, the defense spell will deflect a portion of any damage he receives back at enemies and cause lightning to emit from Deaths body, zapping any one or thing that gets too close.  The strength spell will increase Deaths attack speed in addition to his strength.
Scythe Telekinesis:
Death is able to manipulate his scythe without touching it.  Using this power he sent his scythe inside of a monsters body and sliced it up from the inside.
Reaper form:
The most devastating ability Death was granted as a Horseman employed by the Charred Council.  In this form Death is significantly larger, almost twice as tall as his normal form.  Death gains the ability to fly, teleport more freely, fire energy blasts from his scythe, and his attacks in general become far more powerful.  While Death can still technically be injured, any damage he receives he so heavily mitigated that he might as well be invulnerable.  When Deaths "reaper energy" runs out a large explosion of purple energy will be released, finishing off anything that might still be alive, Death can remain in his reaper form for about fifteen seconds.  Reaper energy can be restored by attacking enemies with certain types of spells(such as crows or harvest.)  Death also has a magic talisman that will replenish his reaper energy with every attack he lands.  
 Even when not transformed, Death is actually capable of utilizing parts of the forms power via manipulating ghostly manifestations of its body.  He can use parts of the reaper form to do all sorts of things, from materializing a scythe out of thin air and telekinetically manipulating it to attack enemies, to something as mundane as opening a door or a treasure chest.  Using an ability called "Deathgrip" Death can extend the reaper forms hand around 10-15 meters in front of him to pull objects or enemies towards him and vice versa.  Another ability called "Harvest" has Deaths reaper form swirl its scythe around Death, slicing up anything roughly 4 meters from him.  Something else important to note is that the time limit is never brought up outside of game-play.  In fact even if you have no reaper energy Death can still utilize all of the above skills and can transform into his reaper form to perform certain execution moves.  It's possible that the the time limit isn't actually as short as it is in game-play.
Physical Abilities:
Death is extremely acrobatic and nimble.  So much so that it's gone to his head.  He believes that no one is fast enough to hit him, so he usually makes it a point to evade rather than block.  His fighting style revolves around evasive tactics and overwhelming foes with quick and elaborate combos.  
Death also possesses a great deal of physical strength.  He can easily move around giant metal statues and even larger objects.  He can handily smash through rocks the size of small buildings, and overpowered the telekinesis of a being who should be at least as powerful as the one in the previous video.
Durability/Resilience: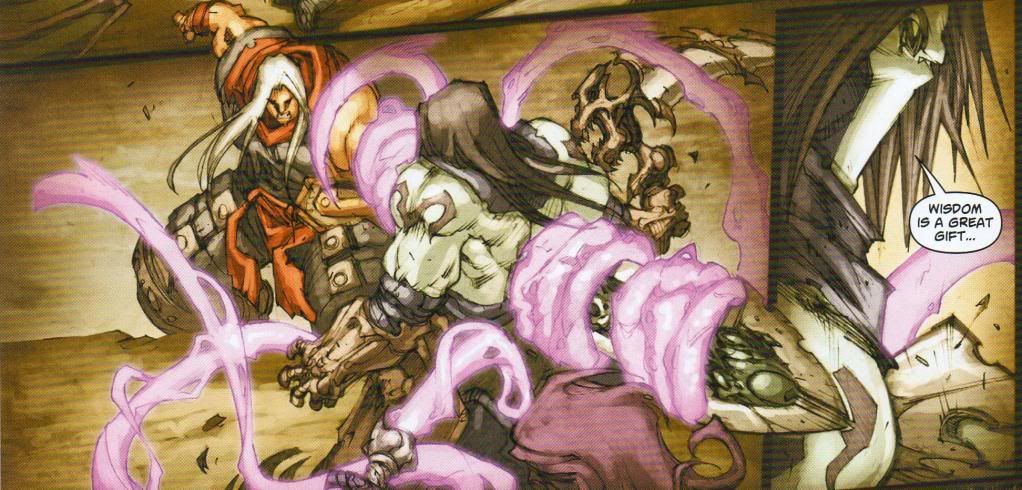 Despite the fact that he prefers utilizing evasive tactics in combat, Death is more than capable of taking a hit or two.  As shown above, Death can be stabbed through the torso with a gigantic sword(the reason he was hit in the first place was because he was protecting his sister Fury), and not so much as flinch.  He then proceeded to cut Wars arm off and pull the sword out, completely unharmed and his wound instantly closes up.  This healing factor is not present in the game, but I think that's more just an example of game-play story segregation than anything else. He is not only resilient against raw physical trauma.  At one point he was run through with a weapon called affliction that causes any wound it makes to become necrotic and spread to the entire body.  Another being, called Abbadon, who is an extremely powerful angel would have died if he had not received immediate medical treatment and he lost his eye(the part of his body that the blade had struck.)  Death not only survived his injury without medical treatment, but he was able to go on fighting shortly afterwords.
As far as sheer physical durability is concerned, Death is able to survive physical blows from this thing.  It's size alone would give Death large building level durability.
Speed:
While he has shown to be greatly athletic and nimble throughout the series, Death doesn't have many notable speed feats of his own.  However, in the Darksiders comic, we see that War seems to be able to deflect bullets with his sword, and given that Death has been consisitently shown to be all around more powerful than War, it's possible that Death is a bullet timer as well.
Additional evidence for this is that in the novel "The Abomination Vault" Death is described as having blocked a shot from the supernatural handgun "Black Mercy."
Weapons:
There are many weapons that Death has access to in Darksiders 2, including axes, hammers, maces, glaives, armblades, gauntlets, claws and bucklers.  His weapons can also come with various enchantments, such as freezing, shocking or burning enemies.  Here are some notable examples.
The Harvester/Scythes in general: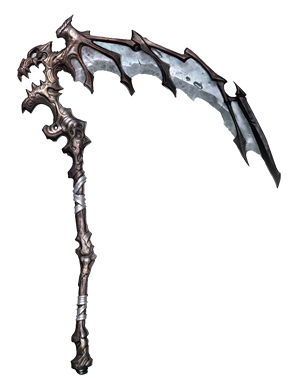 Deaths weapon of choice.  He can swing them around as two handed weapons, or split them apart into two weapons and duel wield.  He can also staighten the blade and use it as a thrusting weapon.  As previously mentioned Death can also control scythes telekinetically, allowing for greater versatility in combat, such as suspending them mid air and spinning them around like buzzsaws.  Deaths primary scythe, The Harvester doesn't actually appear in Darksiders 2, but he apparantly can shape it into a "limitless" amount of different types of melee weapons.
Redemption:
A pistol belonging to Death's brother, Strife.  It is a semi-automatic ten shot revolver with a limitless ammo supply.  Ammo will automatically regenerate once Death stops firing.
Achidna's Fangs:
Fangs taken from the giant beast Achidna and re-purposed into weapons for Death.  They can drain the life force of anything they pierce and return that life force to Death, healing his wounds.
Sceptor of the Deposed King:
A huge mace taken from the ex king of the dead, Argul.  It is stated to freeze an enemies blood with every strike.  Has a high chance to completely freeze enemies solid.
Aftermath:
Deaths reward for completing "The Crucible" an arena challenge which involves defeating 100 consecutive waves of enemies that become progressively stronger after each round.  Every hit that Death lands with this weapon will restore his health, magic energy and reaper energy and is one of the most powerful weapons in the game.
Lich Spines: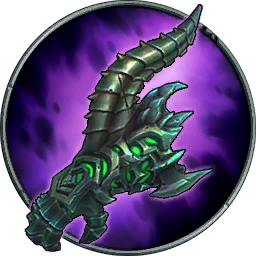 A powerful pair of armblades that electrocute enemies upon contact and hasten the speed at which Death recovers wrath.  They can also launch energy projectiles that electrocute foes.
Salvation:
An angelic weapon similar in function to a minigun.  It fires a rapid stream of of energy blasts.  It has unlimited ammo, but can overheat.  Additionally, it can also fire a wide pulse of energy to deal with multiple enemies, and create small shockwaves near Death to deal with foes that get too close.  This isn't a weapon that he can keep in his inventory but Death Battle has allowed pickup type weapons before so there should be no issue with including it.
Gorehammer:
A demonic weapon that fires powerful sticky grenades.  Like Salvation, it can also create small explosions around Death to deal with enemies that get too close and has unlimited ammo.  Also like Salvation, this weapon can't be stored in Deaths inventory.
Grand Abominations/Mortis:
By far the most powerful weapons Death has ever used or had access to.  Before he defected to the Charred Council, Death and the other Nephilim attacked the planet of a race known as the Raviim.  Using their unique biology, Death had the idea to craft them into living weapons of immense power.  Grand Abominations have enough power to destroy entire planets.  However, the abominations have been locked away to ensure that they can't be used to threaten creation any more, so they are not at all standard equipment.  Despite this, Death does have a weapon known as "Mortis"(pictured above) which he describes as a "half dead" abomination.  It only operates at a miniscule fraction of its true power, but it is still a formidable weapon, being able to absorb attacks and redirect them back at Deaths enemies.
Intelligence:
Being an ancient being that has existed since the dawn of creation, Death has a sizable amount of experience and wisdom.  As the leader of the four horsemen of the apocalypse who led the charge against the other Nephilim, he should posses a large degree of tactical prowess.  He is able to solve the many puzzles and survive the many traps that are present in Darksiders 2's dungeons.  He is also evidently a skilled craftsman, as his primary weapon, The Harvester, is of his own creation.  Death also possesses a great degree of mental fortitude.  The Grand Abominations will constantly psychically attack their wielders, and Death was able to wield them without much trouble.
Weaknesses:
(I couldn't find any images of Death looking sad/beat up)
Death doesn't really have any notable weaknesses.  The fact that almost always opts to evade attacks rather than block them could prove detrimental against opponents as fast or faster than he is.  Something else to note is is the fact that Death can only utilize his "full power" when he fights to preserve "the balance."  However, the difference between full power and not full power is never clearly defined.
Potential opponents:
-DMC Reboot Dante(aka "Donte")
Both are referred to as Nephilim, half angel half demon.  Both are known for demon slaying.  As far as I know they're close enough power-wise.  I just want him to die Should be a good match-up.
-Dante Alighieri
Both are scythe wielders whose universes are loosely based on Judaism/Christianity.  Both struggle with their past sins and seek to(at least partially in Deaths case) absolve themselves of their sins by rescuing someone close to them.  I haven't actually played Dante's Inferno but from what I know about Dante power wise Death should have this one in the bag, though Dante could probably put up some sort of fight.