Background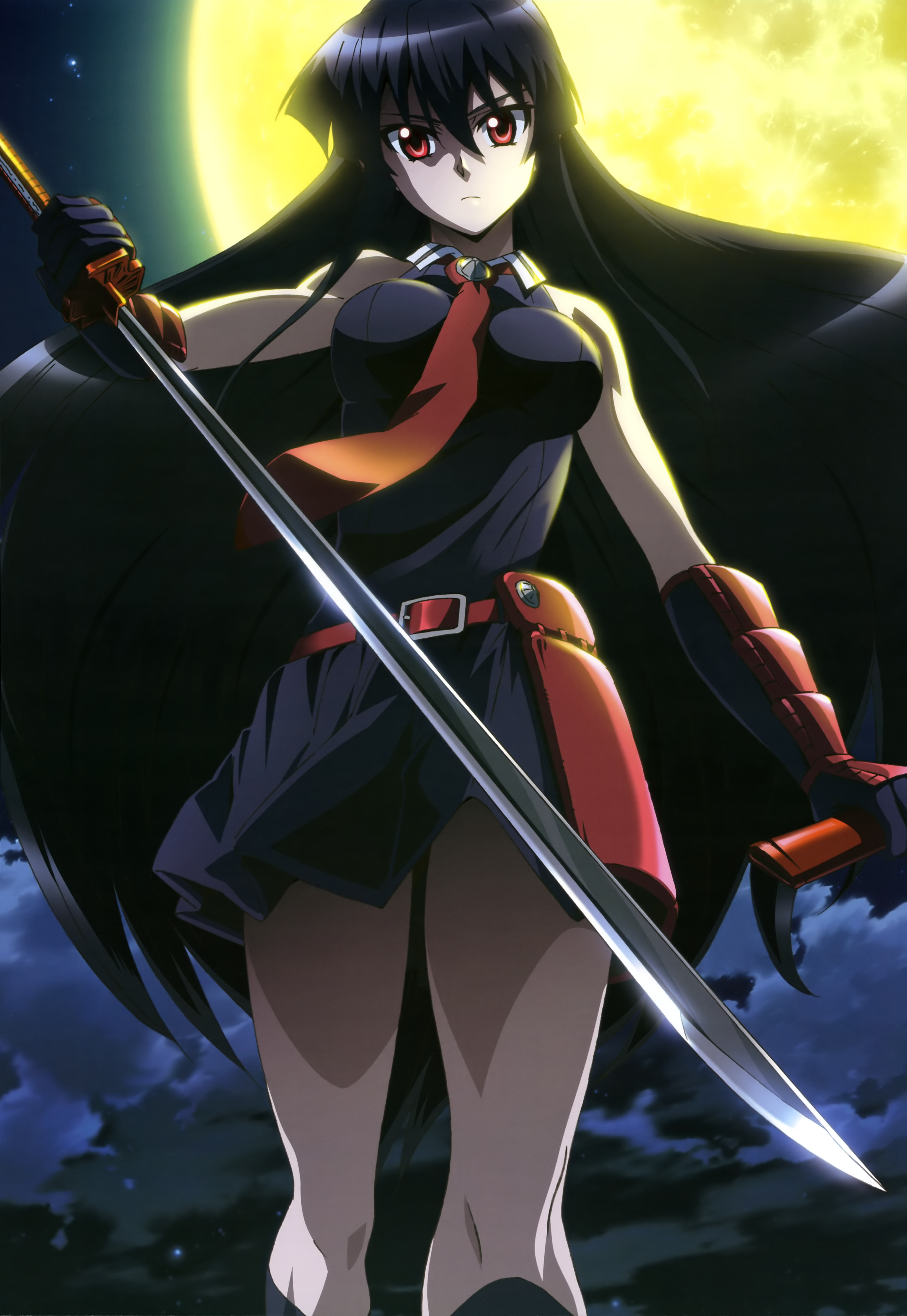 Age: Somewhere in her Teen Years
Height: 164 cm (5"4")
Weight: Unknown
Blood Type: A
Trained by Gonzuki
Name means "Red Eye" in Japanese
Member of Night Raid
A really big eater (not joking)
B\W\H: 81"/56"/83"
Bio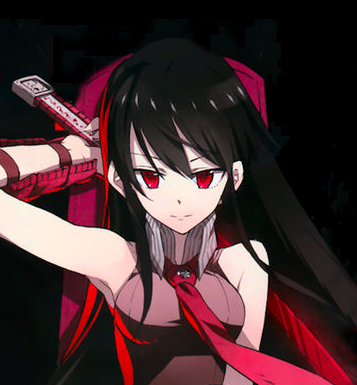 In a world ruled by The Empire, there was a long black haired girl with red eyes carrying a poisonous katana killing anything that gets in her way and her name was simply known as Akame. But Akame's backstory is not for the faint of heart since her story is kinda tragic and very dark... you've been warned.
When Akame was just a child, her parents sold her and her younger sister, Kurome to The Empire and they were forced to go though a very cruel exam by being placed into the forest inhabited by monsters known as the Danger Beasts. But out of the 100 children that were placed into this exam, Akame and Kurome were among the few that survived the test and that's a good thing right? Well not really because both of them were separated because Gonzuki just refused to let siblings join the same group because he noted that they would just depend on each other and as the strongest of the two sisters, Akame was accepted into Gonzuki's Assassin Squad called Elite Seven and she was trained in the arts of espionage and combat becoming a highly effective killer.
Akame and the Elite Seven were later given a Shingu, which were weapons that were created 400 years ago by the Emperor in order to surpass the Teigu but failed to do so. Akame's Shingu was called Kiriichimonji which was a kitana that if a person gets cut by this weapon, it will cause wounds that will never heal. When her training was complete, Akame was giving the mission of killing Martha, who was a spy in the Revolutionary Army and also her closest friend. As she took Martha into the graveyard in order to prove Martha's innocent but Martha denies the claims and Akame tries to leave to prove that her information was incorrect but when her back was turned, Martha tried to attack Akame and she realized the truth of the information that she was given, Akame then killed Martha and this brought tears to her eyes.
Later Akame and Tsukushi disguised themselves as members of a traveling entertainer group and were soon attacked by bandits so Akame and Tsukushi helped killed them and impressed by their skills, the entertainer's group tried to get the two to join them as they revealed themselves as Rebels plotting to overthrow the Empire but Akame and Tsukushi signaled their comrades from the Imperial Assassin Squad as their mission was to kill the Rebels. After killing the entire group and the mission complete, Gonzuki praised the two for their mission's completion.
But at some point after the deaths of her comrades because the Revolutionary Army started to hire assassins to kill them, Akame was getting dissaisfied and resentful towards the government and it was after that she was sent to kill former general, Najenda that Akame defected to the Rebels after being swayed by Najenda's words but that also sparked a intense rivaly with fellow assassin and sister, Kurome along with a mutual desire to end the other's live.
Now Akame became a member of Najenda's Assassin Group called Night Raid and with them, she now helps them to overthrow the corrupt monarchy that the Empire has become.
Weapons
Akame wields the Teigu known as the One Cut Killer: Murasame, a katana that was once wielded by Gonzuki but while it looks like a deadly blade that Akame carries with her all the time, the Murasame also has a deadly effect in which if you get cut by this weapon then the blade's poison will affect the victim's body and will quickly kill them within seconds so you better hope that she kills you with a quick slash with her blade otherwise the poison will probably kill you first but only downside is that the blade will not work on anyone who wears armor and Biological- Type Teigu as well as machines plus the corpse dolls created by Yatsufusa are inaffected as well. But here's a good question, how does someone clean her sword if they are going to accidently cut themselves on the blade and they get killed by the sword's poison? Probably very carefully and gentle.
Abilities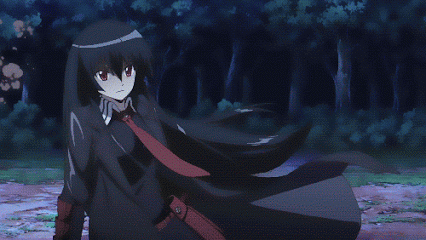 Now Akame is one of the strongest members of Night Raid as she is able to slay the strongest of enemies with little effort and her hellish assassination training allows her combat ability to be on par with those as powerful as the General Rank within the military levels of the Empire. It has also shown that she doesn't rely on her Murasame alone since she's a capable fighter with remarkable speed and reflexes, being able to dodge and counter-attack with deadly results and she's skilled at hand to hand combat. Akame also doesn't give off no killing intent at all when she fights making it difficult for her enemy to sense her presence and according to Wave, Akame can run at 340 meters per second which is equal to 1224 kilometers per hour meaning she is almost fast enough to break the speed of sound.
Trump Card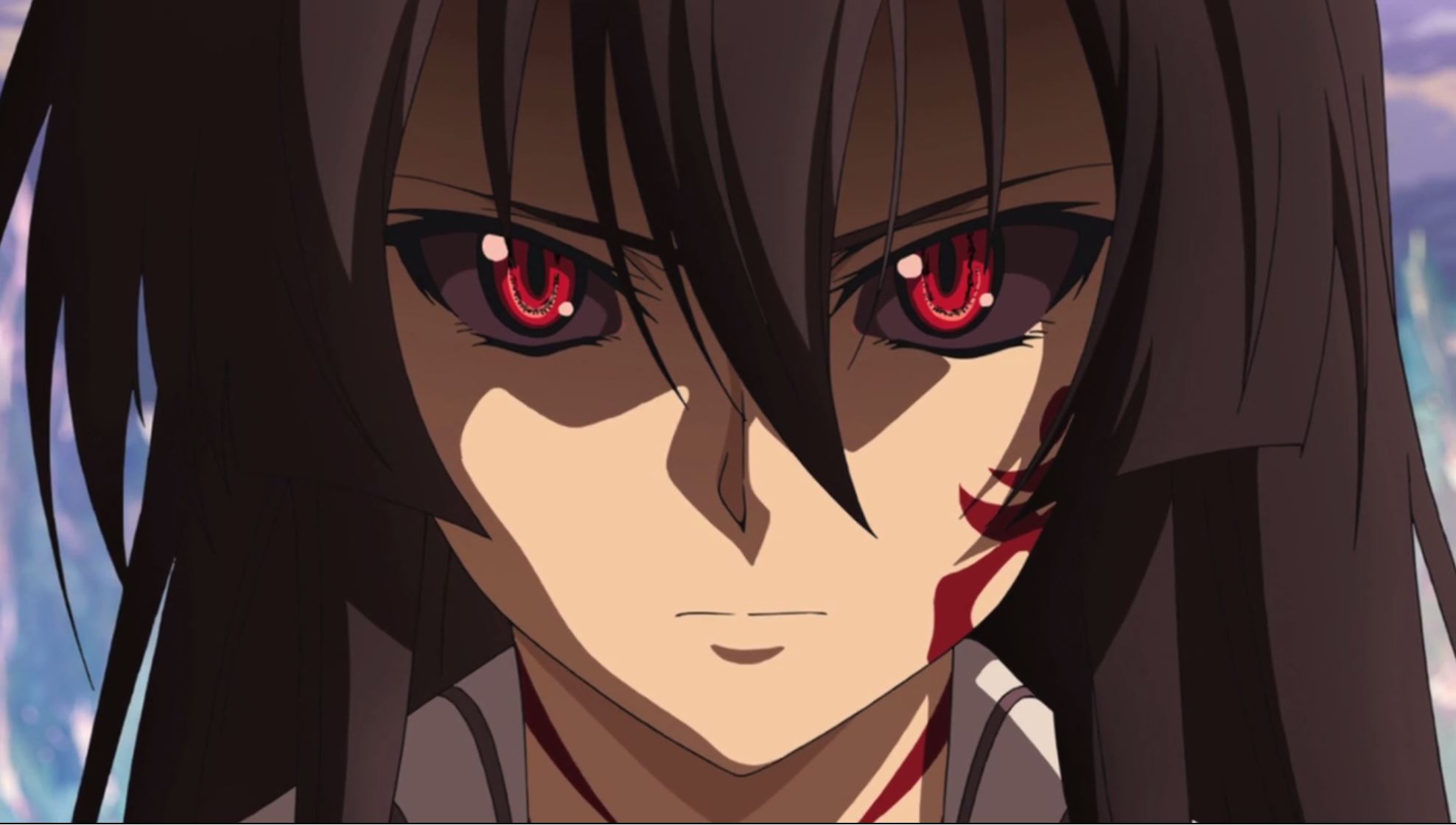 Now this is going to be really fun, as Akame battled Esdeath in the final episode of the anime series or Chapter 76 of the manga, she sliced her neck open using her Murasame to infect her own body with it's poison which is pretty crazy but hey it's the world of anime after all and normally that would kill her right? Well she manages to resist the poison and accepted all the lives that she has taken using her sword or in the manga's case she has to take the life of a friend as her eyes are black and her pupils become black as well with red markings appearing on her body making Akame more demonic. The Little War Horn makes her speed and strength become even more powerful than she is normally as she is able to create afterimages and make her striking strength deal more powerful blows for a limited time which is kinda like Raiden's Ripper Mode now that I think about it.
Feats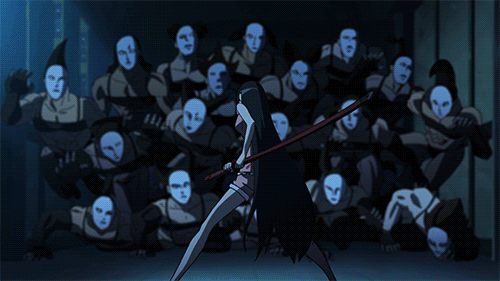 Sliced 17 guards into multiple pieces
Defeated Zanku the Beheader, Toby, Kurome (Anime only), Saikyuu (Manga only), Taeko and Esdeath
Can dodge bullets using her speed
Survived being in the forest inhabited by Danger Beasts when she was a child with Kurome
Survived the effects of Murasame's poison
Managed to create an afterimage before Esdeath used her Trump Card which allows the latter to completely freeze time
According to Wave, she can move faster than the speed of sound
Took hits from Wave's Grand Chariot
Can cut stone pillars with a single slice
Almost broke through Grand Chariot's armour with repeated attacks
Strong enough to shatter Esdeath's ice
Is able to keep fighting despite being injured
Survived a storm out at sea between the events of Akame Ga Kill and Hinowa ga Crush
Potential Opponents
Ryuko Matoi (Kill la Kill)
Well not the brightest match I can think of but even though I only saw like the first episode of Kill la Kill and don't know much about Matoi but hey if it comes up then I'm willing to watch the show to get to know her a bit more but all and all this could be a pretty close matchup if I do say so myself.
Yuichiro Hyakuya (Seraph of the End)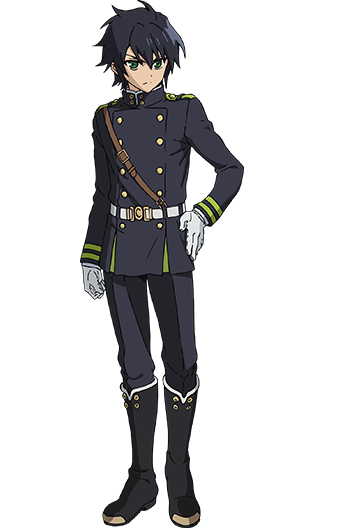 Well what would happen if a vampire hunter came across an assassin as she kills a few vampires that he was going to kill? Why a fight to the death is what would happen and just like Ryuko, I don't know a whole lot about Yuichiro and the series that he's from but hey like I've said before, I'm willing to watch his series to get to know him a lot more before the fight happens.
Well I didn't think that this would take me a short time considering I sometimes put things off for a while but this time I'll be going full force with making more of these and counting this one, this makes 21 blogs considering that my blog on The Joker was my 20th blog that I've done and didn't relize it until now but before I go here's a quote for next time.... ''How foolish. One does not sit long on the throne with a dull blade!" Well looks like my next blog relates to a character that I know will fight a character that I previously did as blog sometime ago. Well that's all from me and I'll catch you guys later for my next blog so until then..... Yoshi Out!