Video game remakes have a goal of improving on what has already been there and done that. Instead of teaching an old dog new tricks, this is getting a new dog without the limitations of the dog of the past (R.I.P. fiction old dog.). Remakes serve as either being a new and improved version of an old game, without the problems that came from age, or as to make it a better experience for those just now playing the game for the first time. What has done the best job? And what has yet to be seen?
I am splitting this into two separate top 5 lists, one for the best remakes we have now, and the ones we need. Starting off with the Top 5 Video Game Remakes! First of all, this does not include HD remakes where the main difference is the higher quality. We are talking new engines, better graphics, better sound, improvements that don't just make the game shinier. (Although there are some great HD remakes that go beyond this. I will still leave them out however.)
5. Final Fantasy IV (DS, iOS.)
This game has been remade and ported so many times now, it could very well be remade again in the near future (Even though most of us want a remake of a different Final Fantasy game...). The SNES original, that basically looked like an NES game with more color, is now 3 dimensional that makes the game gorgeous, plus new mini games, auto-battle, voice acting, and a more balanced difficulty compared to the originals easiness.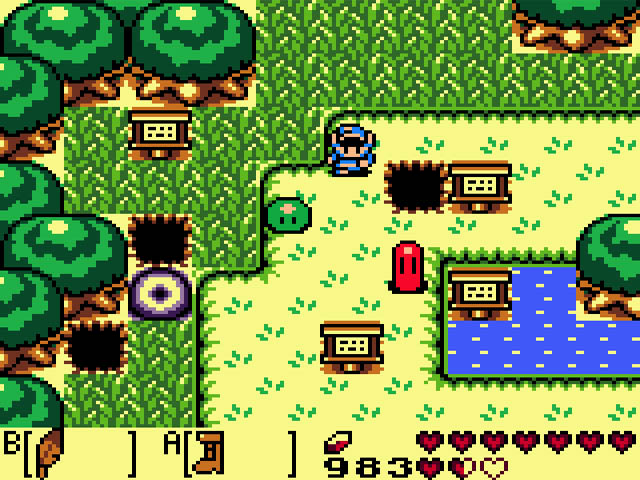 4. The Legend of Zelda: Link's Awakening DX (Game Boy Color, 3DS eshop.)
Yep. Sure, its just Link's Awakening but now in color. But come on, what else could have they possibly improved on this already great game? That's right, the Game Boy Printer! I always thought the game had a lot more life with the color, especially with a lot of the environments.
3. Resident Evil (Gamecube, Wii.)
Seriously a beautiful and atmospheric remake. I would play this over 5 any day of the week. The bosses are daunting, perplexing puzzles, and TEH GRAPHICS! Yes, teh graphics indeed. While the controls are not quite perfect, this is worth playing for anyone interested in the survival horror genre.
2. Black Mesa (PC.)
The first Half-Life game we get in years is a fan remake, and the 'fan' part is hardly noticeable. While it is not completely finished yet, with the final area not present in the game as of now, this remake of the 1998 original Half-Life reduces all age that game had and it is still just as awesome. Not to mention, it is free and green lit for Steam!
1. Super Mario All-Stars (SNES, Wii.)
A remake of one game? Please, here is a remake of four. Super Mario All-Stars remakes the original three Super Mario Bros. from the NES, including The Lost Levels that was never seen in America until then. This could have been just Mario 3 and probably still top the number one spot. This is how its done!
Remakes I have not played or have just barely missed the top 5: Ocarina of Time 3D, Halo: Combat Evolved Anniversary, Final Fantasy III, Dragon Quest IV-VI, Klonoa, Conker Reloaded, Perfect Dark, Star Fox 64 3D, a bunch more I am forgetting.
5. Okamiden
Okamiden was an overall great sequel to Okamiden in my eyes, but having it on DS damaged some things here and there. The graphics, although great for DS, they were just that. And when your game has a predecessor like Okami to look up to, it would be nice to have an easier comparison. Also having a lot more top down views of the game made it a bit too 2D for a 3D game. Having a remake on the Wii U or Vita could work wonders. Though I think there is a more likely chance of seeing another Okami sequel than a remake, since fans are probably tired of the third Okami re-release. I need to hear the music without the choppy speakers!
4. The Mother series
Remember that Ness character in Smash Brothers? I wonder what game he is from...
The Mother games have had so little luck of releasing outside Japan. The only game to come stateside was Mother 2 (Better known as Earthbound.), which has not seen any chances of a virtual console release. Getting these games, with each game is on a different system, is very expensive. I haven't even been able to play them since I refuse to use an emulator. Bam, 3DS remake. Do it, Nintendo.
3. Metroid II
Metroid II...its pretty strange to play now. The game gets severely handicapped being on the Game Boy. Frankly I don't even want to finish it, because of it. It has a lot of plot in the Metroid series as well, so please get Wayforward on this (Or, just get Wayforward on anything Metroid related.).
2.Basically anything on the Sega Saturn
This console is a complete mystery to me. It was very overshadowed by the PS1 and N64 at the time. Games I always hear about, but not exactly on the top of the to-do list. Maybe its just me not being used to Sega consoles, but most of the popular games on the Saturn I have hardly even heard of. Panzer Dragoon? Guardian Heroes? Lets change that. The characters in Sonic All Stars Racing should be less obscure then this!
1. System Shock 2
Oh yeah, something to do with BioShock?
If you don't know, I love BioShock. When I heard that BioShock is a spiritual successor to a game called System Shock 2, I was very intrigued. I hear all of these great things about Ken Levine's first game, yet, where can I get it? What's a DOSbox? What Black Mesa Source did to Half Life 1, is what needs to happen to System Shock 2. I think this would be a perfect project for Irrational to do once BioShock Infinite is finished.
So what is the best remake out there? What do you WANT to be the next best remake?