Disclaimer: All ScrewAttack logos, including the title, website link, and the bolt, are all property of ScrewAttack Entertainment LLC. While I may have designed my own versions of them by myself, they are strictly for personal use. I DO NOT SHARE ANY OF THESE IN EITHER VECTORED OR PNG FORM (except the bolt, which is a 500 px png). This is not only to evade people to use it on their own stuff (to evade confusion), but also to evade people to use them for malicious reasons. In short: I play it safe, so I don't go around sharing clean logos to everyone. You're free to use the wallpapers and designs dumped in this blog, however (except personal ones like the AcA and anything Jetman related for obvious reasons. ;) ).
Okay, much like some g1s out here, I thought about doing some kind of blog series in which once every month or so, I dump my Photoshop folder into a blog of sorts so you guys can see what I've been doing lately. Not only that, but I can also snatch a couple of stuff I've done in the past for your viewing pleasure. So let's get started with the easiest ones – the ones done in October.
OCTOBER 2012
AcA "Remember The Fallen" logo: Long ago (about 5 years ago, to be exact) I joined a little group of mischievous members who excelled in roleplaying and were unique in their very own way. This group was known as the Anicardios Crew Alliance. During my time with them, I designed a logo (which its original version can be found below) which to this day some of my friends still wear it proudly. This redesigned logo was in memory of two of its key members – HolyChaos and B.Q.V., or simply Veronica – as they tragically died on October 11th, 2012.
Social Buttons: I had a hard time designing social buttons to check my social networks (which you can simply check my sidebar for a quick shortcut to each of them), but before settling with the generic ones from each site's branding pages, I managed to design unique ones for Twitter, Raptr, and even ScrewAttack. The latter one had a few iterations, with the last one being the most simplistic. I do request some feedback from these if you can.
Facebook Page Banners: Speaking of social, I have a Facebook. (Sadly, it's not open to the public. Yeah, you *could* add me, but unless you're someone I really trust I won't be accepting your friend request.) Anyway, I made a couple of banners for my own profile and also the two pages I have control over. I can say I'm pretty proud of them. By the way, click on the banners (the page ones, not the black-n-white, personal one :P ) and you'll be sent to their respective Facebook pages. Neat ;) (Update 09/13/2016: fixed broken links for banners)

Trilogy Trial banner, logo: Obviously a reference to the Ace Attorney design, Trilogy Trial's banner and logo were conceived when I was brainstorming a name for a new livestreaming series for this November. While the series has nothing to do with Ace Attorney itself (for now), I simply liked the sound of "Trilogy Trial", and since it was easy to connect it to "Turnabout Trial" (which is the name of the series in Japan), I decided to go with it. By the way, I disclaim knowing actual Japanese, but I do know that the kanji behind this logo roughly translates to this title.
The banner is, obviously, hinting at what trilogies I'll be covering. I'll definitely start with Mario and end with Metroid, so to speak.
Lots of Random Appearance crap: Since September, I've moved away from my old ACX logo and focused on making "Jetman" as the key word of myself. (There's a weird philosophy behind it connecting Windows 8 and myself, but I'll let you guys figure that one out. I'll explain it next month) Since then, I've managed to make all sorts of crap with this thing, from a new intro (seen on livestreams) and some really cool backgrounds for my shows. This will all end up being used on a future tutorial as examples, so you might want to subscribe to me so that you can keep yourself updated (SHAMELESS PLUG!!).
(Update 09/13/2016: There was a list of thumbnails for g1 Digital Forecast that I decided to remove due to their links being broken - they were removed. Sorry!)

THE SCREWATTACK LOGOS
If you read the disclaimer, you knew you would expect me to talk about how I managed to make my own ScrewAttack logo vector and went on to design an awesome wallpaper for my computer. Anyway, it's quite simple how I managed to make the logo after finding the font (Gotham Black). Now, I know Craig would be sending me a cease-n-desist email faster than what it would take Viacom to take down their YouTube videos if I ever shared these to the public, so the only thing I can share you for now is the wallpaper itself. Vectors and shit like that are kept under my control for personal use for random stuff…so who knows?
The bolt is another thing I designed (more like re-made), however I can share this one at the very least as a .png file because it has been a symbol of many g1s and there hasn't been a true V5 bolt out there. It's the same design used on the g1 Features logo and it was loosely based on the ScrewAttack bolt found on the Advantage Program page. Use it wisely.
BACK IN TIME
AcA Logo: Done in 2009, I went with a minimalistic approach with the design. The very first logo was a sketch I made in 2007 and it was already showing its age, so we had to find a new one to try a revival.
Fi Banner: I dunno, I felt pretty awesome after designing this. It's simple yet eye-catching. You'll see this banner on my analysis on Fi's character. Update 09/13/2016: I will have to make a new blog on Fi's character at my website for archival purposes.)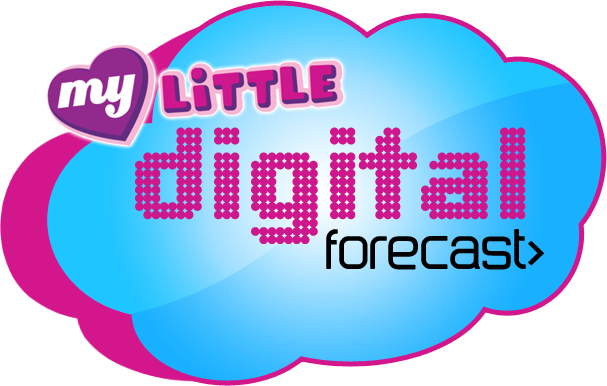 My Little Digital Forecast: Probably the first and only time I'll do anything pony-related, this April Fool's joke logo was simple to make: grab the "My Little" from the Friendship is Magic logo and paste it, then change the colors around for a more cutesy feel and in tone with the show's "once-so-girly" background (cuz you know, if I said 'flat-out' girly, *they* will come and refute it. *cough*). Who knows, we might revisit this again someday, if not on an official episode.
That's pretty much it for this month. Next month should be a bit chunkier, as I will be hard at work on some other graphics stuff and most likely will be working on getting new avatar/sig combinations for the forums…provided they come back soon. *sad face*
Anyway, JETZ.acx signing off! Remember to subscribe and follow me on any of the social links below my bio!