Four years ago, Archie Comics, a comic book company famous for two things: a mascot whose defining character flaw is decideing which of the many hot chicks that through themselves at him he wants to shag, and Sonic comics that are way better than they have any right to be, added a third thing to e famous for ; Mega Man!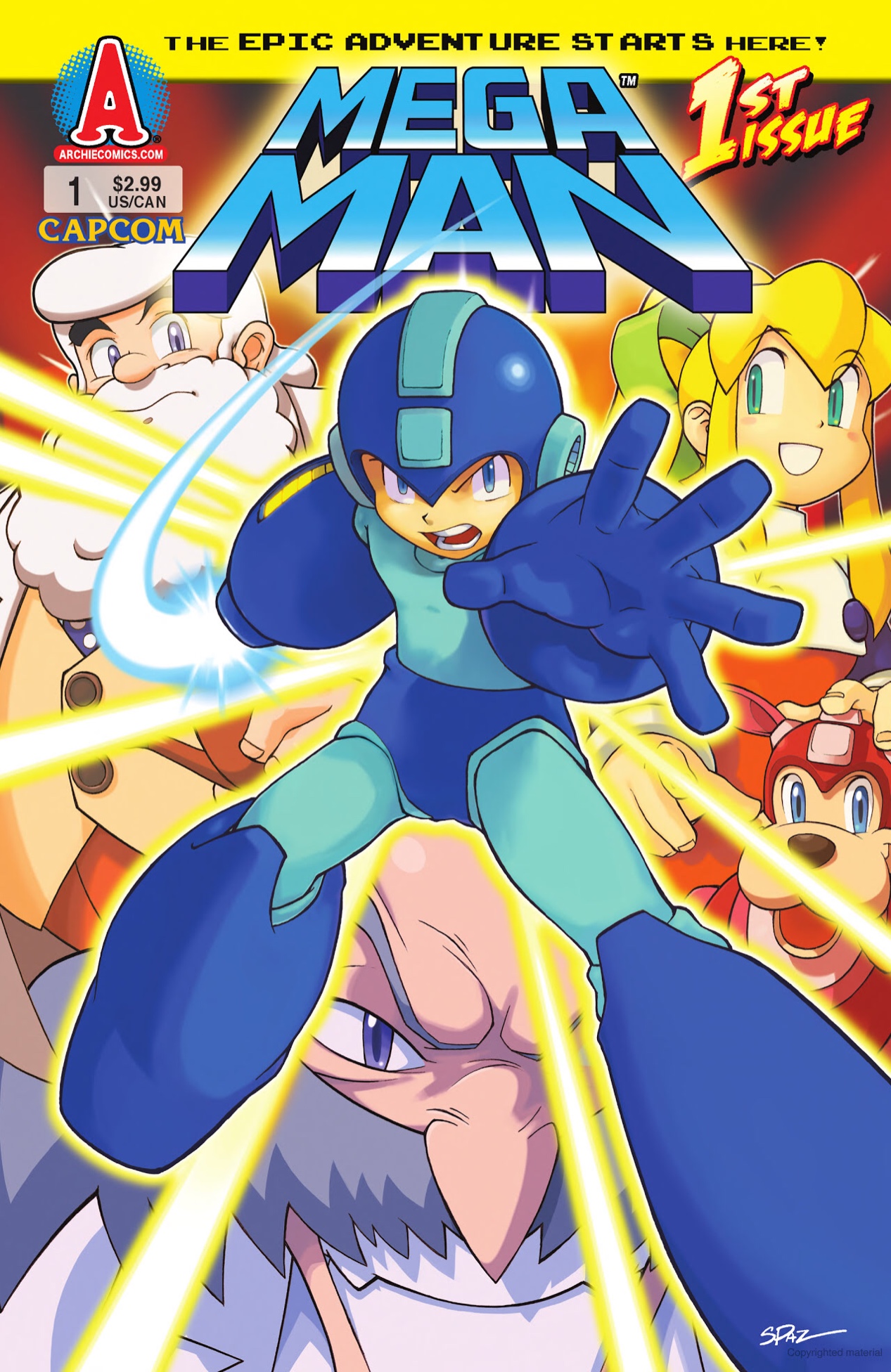 Of course, a Mega Man meets Sonic crossover was inevitable, and two years ago we got it: "Worlds Unite" the story of two genius men who come together across time and space to make a world where they'll be happy together, only for a cruel robot boy and super fast hedgehog to come and ruin their bliss.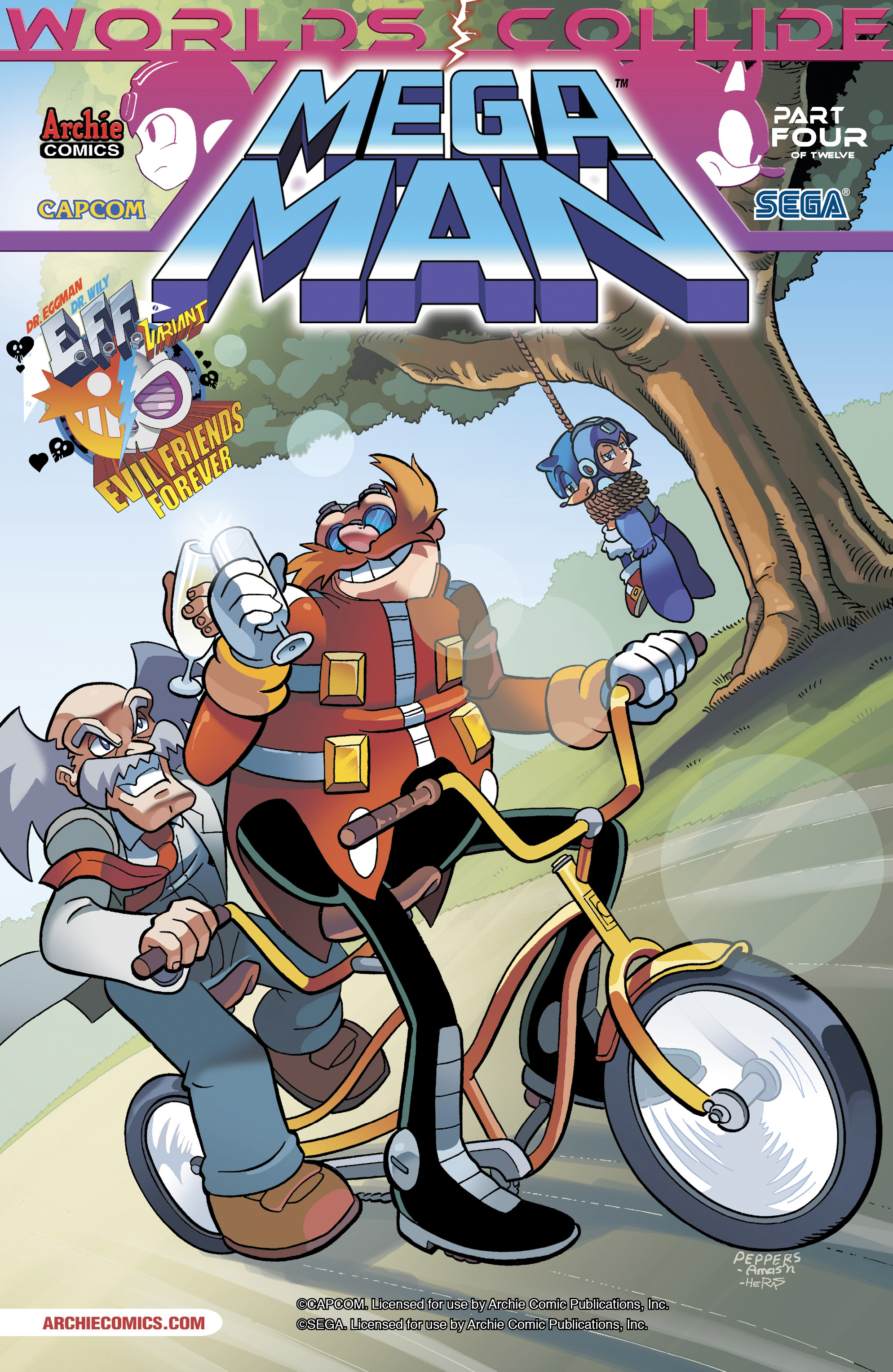 Two years later, and it's almost time for the sequel. Last year, Mega Man X was offically added to the Archie mythos, and the  Sonic Boom universe got a comic that breaks all conceived notions of law and reason in the universe to be one of the funniest things to ever exist in comic form, despite being tangentially related to cancerous growth on my Wii U the doctors at the hospice call "Rise of Lyric". As this new crossover event was originally advertised, those would have been the only universes to join this time around (as well as the "comic continuity only" elements like Quake Woman and the Freedom Fighters), and that seemed kick-ass enough. But we were foolish to assume that was all. No, there was always more. 
Much More... BEHOLD!
WHAT YOU SEE BEFORE YOU IS BUT THE BEGINNING! "Worlds Unite" has become "Capcom X Sega: The Comic" Joining the boys in blue (and Sticks) are Viewtiful Joe, Billy Hatcher, Breath of Fire 3's version of Nina (we going old-school) and Alex Kidd, the original face of Sega (I TOLD YOU WE WERE GOING OLD SCHOOL!) Nina, for her part, actually stands in for her entire party here, as it seems the BoF fanboy and writer of the event, Ian Flynn, will go out of his way to have them all appear in some capacity 
Wendsday Update: The Sega side is joined by Saturn savior Nights offically joins the battle, along with the default star of Golden Axe thanks to Bloody Roar, Tyris Flare, although I would truly shocked if the more iconic gnome-class character Gilius Thunderhead doesn't show up alongside her. Amaterasu, the wolf God of the Sun and the Red Ameer of Ghost n' Goblins and Demon's Crest join Capcom (WHAT I TELL YOU ABOUT OLD SCHOOL!),
However, Red Ameer's spin-off series actually isn't mentioned by IGN, or Ian Flynn, the writer; just Ghost n' Goblins. Could this simply be another (in character for IGN) oversight, or are they trying to make Ol' Red out to be villain that switchs to the good guys at the last minute? Also, where thre hell is Arthur?!
Thursday Update: And with that, we have our final four guest. At least, on the cover. The previously rumored Gore Magala, the gigantic final boss of Moster Hunter 4, and a Base Wing from Panzer Dragoon take over the back of the splash, but we all know the real focus is Skyes of Arcadia's Vyse and the legendary face of fighting games himself, Ryu! I expect many jokes revolving around confusing the Breath of Fire Ryu for the street fighting Ryu.
However, this still isnt everbody, as Flynn reveals that he's "overjoyed to get to work with the whole cast [of Panzer Dragoon] this time." The previous time being an issue of Sonic Universe meant to "adapt" Soninc and Sega All-Stars Racing Transformed that featured Vyse, Nights, Ulala, and Amigo as well. Chun-Li was also named dropped specifially by editor Paul Kamanski, saying "and all your favorite characters of the action-packed world of Street Fighter!"
Dan could fight Alex Kidd. DAN COULD FIGHT ALEX KIDD!