One year. A lot of things can happen in one year. It's been twelve long months since I last stepped foot into this website. So, what exactly happened? I lost the will to write. My passion was simply not there. To be honest, I did not have passion in pretty much anything that I did. That was very apparent with my lackluster grades in college, which forced me to relocate to a different school in an attempt to recuperate my GPA. So, what has made me come back all of a sudden? Well, I'd like to thank g1 Woodyman for posting about TMoFG 6, which made me want to go back on the site. I finally have got the itch to write again.
So, what to write about? That was the question I was faced with, and it was a rather peculiar one. Mostly because I had altogether stopped playing video games during my time away from the site, pending the occasional RPG or Visual Novel game. I want to start playing games at a more frequent pace, start getting back into the hobby which helped define me throughout High School. This had me digging through my collection and stumbling upon some games I reminisce about. Several of these games, however, are not very popular or appreciated at all, sadly. That, honestly, is sad. 
The ten titles I will be discussing today are not "classics" or even "perfect", whatever those terms may indicate. However, I can assure you that these titles have a lot of "play" and "enjoyment" to them, and I know exactly what these terms mean. Our genres will be vast, ranging from puzzle, RPG, shooters, beat-em-ups, and platformers. The only criteria to make it on the list was simple: Only a single game per franchise, I had to find at least 6-10 hours of enjoyment out of the game, and I had to believe that these games are criminally forgotten abound the vast mediocrity of their respective system's libraries. Do remember, this is my opinion solely on the topic, but I will be glad to hear your opinions on games you felt should also be appreciated for their entertainment they presented to you. So, without further ado, please listen to the soothing sounds of the Hotline Miami soundtrack whilst breezing through my Top Ten Underrated Gems. 
Number ten: Ty The Tasmanian Tiger (PS2, Xbox, Gamecube)
In a console filled to the brim with great platformers (i.e. Ratchet and Clank, Jak and Daxter), one platformer was going to have to fall under the notion of "mediocre" compared to the others. This is not to suggest that our friendly Tiger from Down Under did not recieve his fair share of attention. After all, he DID get a couple of sequels, neither of which were quite as good as the original. But... where did Ty run off to? We still remember the great Naughty Dog platformers of the PS2 era, but several seemed to have bid farewell to Ty, which is honestly sad. The game is a blast. The story is quirky, filled to the brim with lame jokes and a very cartoony feel to the game as a whole. The platforming is solid, if not great. The game has a lot of character to it, which, quite honestly, is necessary if you expect to make it in this genre. The game can be found for super cheap at your local game store, going for only about 5-8 US Dollars. For the countless hours I put into this title, a mere Mr. Lincoln is a small price to pay.
Number Nine: Brutal Legend (PS3, Xbox 360)
Alas, we have a victim of the classic "It's boring in the beginning, so I quit it" motif. You know what Brutal Legend is in the first couple of hours. F**king boring. Oh god, the countless collection quests get so damn old. Get past those initial few hours though, and you have a very solid experience. The game itself is not remarkable, but it is an enjoyable mashup of a platformer, open-world, and beat-em-up. You know what really distinguishes this game from the pack, in my honest opinion? Two things: The voice acting and soundtrack. Jack Black and Ozzy Osbourne are two of the voice actors who provide great performances in this game, really nailing the zany feel of the game to a T. If you are a fan of Hard Rock and Metal, by George, this game is for you. Judas Priest, Ozzy, Motley Crue, Kiss, Megadeth, Anthrax, and Def Leppard highlight the very impressive 75 bands that grace us with 107 tracks. If not just for the music alone, give Brutal Legend a little bit of time. Perhaps not the best of Schafer's creations, but it is a solid addition to his already fantastic resume.
Number Eight: Incredible Hulk: Ultimate Destruction (PS2, Xbox, Gamecube)
Absolutely brutal, unadultered carnage. Sometimes, I simply want to kill things. However, despite the fact that I live in America, I do not own a gun, and I have zero indication of becoming a murderer anytime soon. Alas, what am I to do? Play an open-world Sandbox game, of course! There are a lot of good ones to choose from. You have Grand Theft Auto, Saints Row, Far Cry, Red Dead Redemption, the list is massive. You know what my favorite sandbox game is, though? Incredible Hulk: Ultimate Destruction. I know, weird, right? A game that is a movie licensed game is actually good? What's going on here? Hulk takes a spot on the list because we all need a stress reliever in our lives. I, personally, would prefer not Hulking out in real life, and simply controlling a large green monster who wreaks havoc on [INSERT RANDOM UNFORTUNATE CITY WHICH IS PROBABLY NEW YORK CITY IN REALITY BECAUSE NYC IS DESTROYED IN EVERY SUPERHERO MOVIE]. 
Number Seven: Mace: The Dark Age (N64, Arcade)
Me and fighting games do not normally get along very well. I have always rather enjoyed games which give me time to think out my moves (i.e. Puzzle/RPG). However, if I was to play a fighter, I am a HUGE fan of the Soul Calibur series of games. 3-D fighters as I like to call them have always had a special appeal to me as a gamer, this is, in part, thanks to Mace: The Dark Age. I can fondly recall the first three video games that I ever played: Majora's Mask, Super Mario 64 and Mace: The Dark Age. Of the three, I spent the majority of my time on Mace. It is just simply a LOT of fun. It boasts an impressive cast of characters, not in quanity, but in quality. As a fighter, it is not the most challenging one out there. You do NOT see them playing Mace at EVO. Honestly though, if you are just looking for a game to play with your friends and they already tried to rip your throat out for stealing their only two stars in a bullshit game on Chance Time in Mario Party (not that this happened to me...), pop in Mace and give it a spin. It truly is one of the last good games that Midway made. 
Number Six: 007: Nightfire (PS2 and pretty much every console from this generation)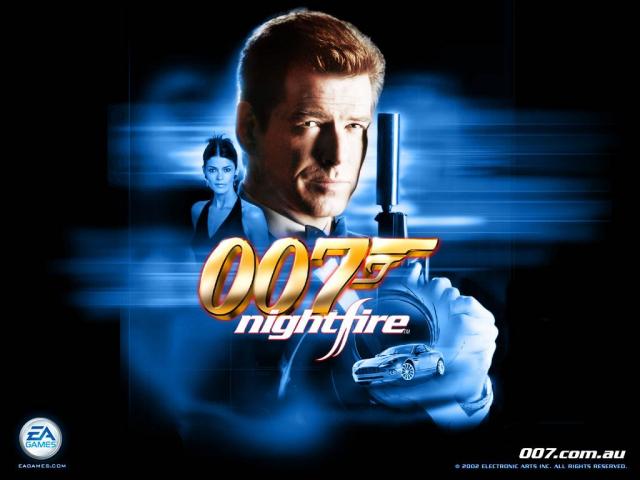 We are all aware of the beauty of a game known as Goldeneye. However, many gamers are under the false pretense that Goldeneye is the only good Bond game ever made. Haha, no, not even close. In fact, Nightfire comes damn close to actually surpassing the Golden Boy as king of the Bond games. The story is simply better, the controls are also better, and quite honestly the multiplayer falls JUST short of surpassing the N64 classic. The game lasts a good 8-10 hours, depending on your skill level. The game can have ramps in difficulty, but it is nothing absymally hard. Car Chases, shoot outs, women, suave tuxedos. All are mantras of the Bond name. You can find all of these, plus some zany antics on the moon, in Nightfire. As a title which is generally in the bargain bin of gamestores, this will make a fine addition to your Generation Six collection.
Number Five: Illusion of Gaia (SNES)
I have a small, minor statement that I would like to make. I do not like The Legend of Zelda: A Link to the Past (the whole world gasps in awe as an idiot online makes such a bold and foolish statement). Perhaps I shouldn't say I "dislike" it, more that it fell flat in my expectations. Why is this, you may ask? Because of Illusion of Gaia. I found this beauty at a used game store for around five bucks. I had no idea what to expect, as I was just then getting into building my SNES collection. I was amazed by this game. You see, this was my first real venture into the world of the Super Nintendo. Comparing this to A Link to the Past, they are VERY similar games. The combat is close, both have dungeon crawling RPG elements involved in them,  and both games boast impressive visuals and soundtracks. So, why Gaia over Zelda? The characters. I am a HUGE proponent of Story over Gameplay (i.e. I enjoy games like Heavy Rain over a game like Left 4 Dead), and I never got attached to the story of Link to the Past. However, I was immediately hooked when I played Illusion of Gaia. Now, before you get all up in arms about Zelda Master Race talks, do note: I LOVE The Legend of Zelda. I own the majority of the games in the series and have played through the majority of them to near completion. The point I am trying to make is Illusion of Gaia is near the quality of A Link to the Past, and it does not recieve quite the attention it deserves as being a classic on the SNES. Perhaps one of the ten best RPGS on the SNES, Illusion of Gaia has, to this day, remained a classic in my books. 
Number Four: Gun-Nac (NES)
Gosh dang it Japan, you sure are weird. And I love you for it. I mean, take a look at this box art. What exactly is even going on? A Spaceship is flying past two Robotic Rabbits and a Random Octupus (Octupi, maybe?) whilst being chased by missles and other ships. Oh yes, the game is actually this weird, I promise you. Probably even stranger, once you delve into some of the obscure and rather random bosses that you will face throughout the game. It is a vertical shooter, honestly nearing the difficulty of games like Ikaruga at points. It is wild, crazy, and a complete "Why, Japan?" experience. Now, buyer beware, the game fetches a pretty penny. I managed to stumble upon mine honestly as a friend was trading off some of his NES games for some PS3 titles. So, about three or four PS3 games for his collection, which just happened to include: Gun-Nac, Duck Tales 2, Chip and Dales: Rescue Rangers 2, all three Mario and both Zelda games seemed like a fair trade. To be fair, I had no idea the value of these games at the time, but he seemed happy enough with the games he got. At least check out a ROM of the game if you get the chance, because it is a very fun game. 
Number Three: The World Ends With You (Nintendo DS)
For some reason, I never was the biggest fan of portable gaming growing up. Sure, I, like the majority of children my age, did partake in the wide world of Pokemon, but that is about where my portable expertise starts to wane. This is, of course, until recently. I decided to dust off the old Nintendo DS and give some of the classics a whirl. I got to play Professor Layton (the first one) and Phoenix Wright: Ace Attorney. I also wanted to check out some of the obscure titles the system had to offer. This is where I stumbled upon two games, both of which are Number Three and Two on my countdown. The first was The World Ends With You. I honestly did not have that high of expectations going into this game. Sure, it has the color, visuals, yadda yadda, but I had been burned by the zany Japan feel of a game before. Thankfully, however, The World Ends With You did manage to keep my attention very well. Once you get past the slightly unorthodox control scheme, a very good experience is awaiting you. This is, in my honest opinion, one of the top ten games on the Nintendo DS. One of the other games that is in my Top Ten is...
Number Two: 999 & Virtue's Last Reward (DS, 3DS, Vita)
Okay, that was an obvious joke, and I apologize for the blatant obviousness of the joke. That aside, the game we are actually talking about is this:
So, let's talk honest here for a second. I really like visual novels. Yes, we are talking the slightly perverse games out there. I frequently dabble with titles like If My Heart Had Wings and Katawa Shoujo. So, yes, I do enjoy these type of games, but I also quite enjoy regular visual novels that are NOT romance stories. One of the finest VNs out there happens to be 999: 9 Hours 9 Persons 9 Doors. How to describe this game... Ah, I got it! Okay, so imagine a movie like Saw that does not completely suck balls like those films did. Now, imagine instead of stupid death traps, the psychopath who kidnaps you forces you to solve puzzles to get out. The beauty of this game lies in the fact that it manages to weave a well told story without bogging itself down with exposistion, which a lot of VNs tend to do. The characters are also full of, well, character, as a good VN should have. Just as good if not better is the 2012 High Definition sequel to the game Zero Escape: Virtue's Last Reward. Finally, I have a reason to own a PS Vita that is not slaving through my fourth play of Persona 4: The Golden! 999 is a perfect game to pick up for your collection if you happen to love VNs or you love the puzzle solving-type games like Layton/Phoenix Wright. The game can be challenging at times, so keep that in mind. This brings us to our number one, which is...
Number One: Shin Megami Tensei: Nocturne (PS2)
Alas, I will be revealing a deep dark secret to the Persona fans of the world. Atlus has made other games that are not Persona. WHAT?!?!??! I know, quite shocking. Even more shocking is the fact that some of the Atlus games out there are as good if not better than Persona. Enter in Nocturne. Nocturne is the oft-forgotten cherry on top of the PS2 RPG sundae. Sadly, this game gets slightly buried behind the Personas and Final Fantasy titles on the PS2 (Not X-2 though, that one sucked), despite being, in many regards, a superior game. What Nocturne does right is nail the dark and depressing feeling that a post-apocalyptic game should have. I mean, spoiler alert, but the world freaking ends in the first thirty minutes of the game! What else does Nocturne nail? Well, pretty much what most Atlus RPGs are known for: fantastic soundtracks, great turn-based gameplay. unique characters, and ball-busting difficulty. No, trust me, you will die a LOT in this game. Nocturne is the perfect game for those of you that are looking for another PS2 RPG to add to the collection. I can also recommend the Devil Summoner and Digital Devil Saga games if you are looking for other damn hard PS2 RPGs. 
I think it should come to little or no surprise to those of you who have read my previous blogs that an Atlus game was number one on this list. I really love that company, and do believe they are the current kings of RPGs. I hope that this list has given you some new ideas for games to check out in the near future. That was the whole point of this blog: I wanted to inspire you all to go and check some games you may have forgotten about or were unaware of altogether. What are some games you wish would get some more time in the sun? Leave a comment below! Hopefully I can get back to a more frequent writing schedule, probably every two weeks an article will go up. I will be participating in TMoFG 6, despite just hearing about it the other day. This has been the LurchenGamer, I hope that you enjoyed the blog. Have a great day!