For Baten Kaitos I will be talking about two key flaws that I had with the game. The first being a certain part of the battle mechanics and the second being the voice acting.
To explain the problem I have with the battle system I must first give a brief explanation on how the battle system works. Like most turn-based RPGs you attack your enemies and they attack you back. Baten Kaitos is split into attacking and defending turns meaning that you do not have to spend your turn solely on attacking or defending. Now the way you attack and defend are where Baten Kaitos really starts to differ itself. Baten Kaitos is a card based RPG with each of your characters having a deck of cards that can be filled with attacking, defending, or healing/stat-boosting cards. Once in battle you get a random hand of these cards to start with and each time you use a card another takes its place in your hand.  This is where my first problem with this game arises, sometimes on your attacking turn your hand will be entirely composed of defensive cards and you won't be able to attack at all. Likewise on your defensive turn you could be stuck with an entire hand of attacking cards and be unable to defend. My bigger gripe is with your attacking phase because once you use a card that is not an attacking card your turn ends, this is not the case in the defensive turn as different rules apply. I believe this problem could have easily been fixed by adding the option to spend your turn shuffling your deck so hopefully at most you will only be losing a single  turn.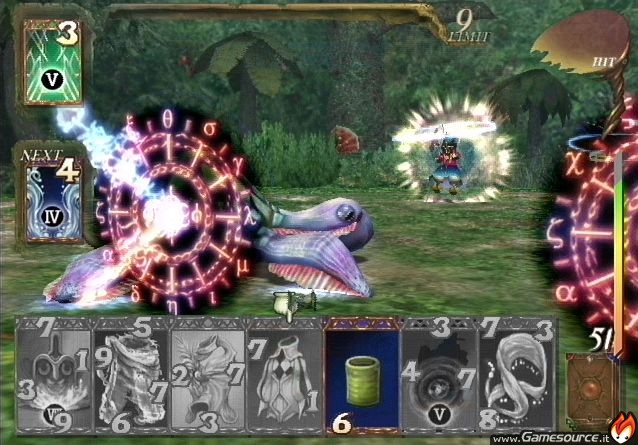 Lost of defensive cards, but nothing to attack with.
The second flaw I found with this game is the terrible voice acting, Rather than explain it I suggest you just watch the video below.
Not only is the voice acting really bad but the writing for the game itself only makes it worse. There is the option to turn off voice acting but at times it can actually be pretty funny just how bad it is. At times it can actually take away from the game as the scene is supposed to be very serious but the voice acting really ruins the mood of the scene. It is important to note that this is a Gamecube game that came out in 2004. 
These are the main flaws that I found with Baten Kaitos: Eternal Wings and the Lost Ocean. I still had a good time playing this game and would recommend it to anyone would likes RPGs and isn't afraid to play something a little different. Overall it is a good game but of course it is not flawless.