Three and a half years after it's original announcement, Professor Layton vs Ace Attorney has finally reached Western shores (in Europe at least, you guys across the pond have a vague 2014 release date). As a big fan of both series, I've been eagerly anticipating this release for a long time. Now that the game has finally been released, just how well do the Professor and the Attorney get along?
Story
Famed archeology expert Professor Layton and 'Ace' Attorney Phoenix Wright both find themselves being asked for help by a young girl named Espella Cantabella. Through a series of strange incidents, both men find themselves and their respective assistants in a seemingly storybook world where magic exists, witches run amok and a man known as 'The Storyteller' writes the fates of the townspeople. In this crazy world, Espella is accused of being a great witch and is put on trial. It's up to Layton and Wright to work together to prove her innocence and unlock the mysteries of Labyrinthia.
The game is split into ten chapters, which cover both Layton's adventure and Wright's, with the game switching control over between them at certain intervals. It's great to experience the adventure from these multiple perspectives, with even the Layton style recaps being personalised by each character (including Luke and Maya). It's hard to really place when PL vs AA is supposed to take place in their respective timelines, though Maya's presence suggests it is between Trials and Tribulations but before Apollo Justice (BTW, it's awesome to have an Ace Attorney game with Maya in. Maybe Capcom should think about that one for the next AA game...) .
The story doesn't rely on a heavy knowledge of either series. This is mainly thanks to the fantasy setting, meaning that returning characters are few and far between. The Labyrinthians make up for this though, with plenty of personalities who continue the style of humour so enjoyed in both series. It's brilliant when Wright suggests using modern forensics to catch a suspect in the first trial, only for the citizens to be baffled. Labyrinthia is an intriguing setting, and while it's focus on magic and witches might seem a little odd, especially for fans of a fairly realistic series like Ace Attorney, the logic of the world is established fairly quickly in the game's 15-20 hour run time. It's great to slowly uncover the true nature of the 'Great Witch' and Labyrinthia itself. While a few late twists stretch credibility a little far (even by the standards of the Layton series) the overall story is very enjoyable.
Gameplay
Fans of either series will immediately recognise the gameplay of PL vs AA. Half of the game focuses on the investigation and puzzle solving of the Layton series whilst the other half covers the courtroom trials which are a staple of Ace Attorney. Generally the Layton sections aren't especially different from their source material. Players go around various Labyrinthian locales, talking to residents and solving the puzzles they throw in along the way. It's all enjoyable stuff, though I'd agree with a few other reviews that the puzzles don't match the difficultly of the series best. While I'm all for fewer maths puzzles, a few felt a bit too easy in the later chapters of the game.
It's Phoenix Wright's sections which get the largest changes, thanks to the nature of the 'Witch Trials' that he participates in. For a start, testimonies aren't given by just one person anymore. A group of witnesses is able to testify about the crimes that take place, and Layton has to interrogate all of them at the same time. While I was concerned this might mean characters would be less developed they actually play off against each other brilliantly, especially in the final trial. The group in that one literally had me laughing out loud. Group testimony serves a practical benefit too though, as Phoenix is able to see how a witness reacts to another's testimony and even compare testimonies for contradictions.
Another Layton staple, hint coins, can be used in both sections which is a smart move. Less of a smart move is the decision not to allow text to be sped up. This feature, usually present in AA titles, has oddly not made it into this game. Even so, these minor flaws don't damped this experience too much and the gameplay is a solid reminder to fans of what makes these two series so fun in the first place.
Presentation
Graphically, the game's locale and characters are all designed brilliantly. Labyrinthia looks a magical medieval town with it's own style, which it's inhabitants all have their personalities reflected in their design. There is definitely more of a Layton feel to the overall look of the world, though the developers have made sure that the courtroom sequences have the over the top nature of the AA series, as reflected in the characters reactions to questioning. Personally I would have preferred Wright to be designed more in the style of Dual Destinies, but given that this game was made first I can understand his appearance here. What is a little more surprising is that the game occasionally lags, presumably due to the character models on screen. It doesn't occur often but is jarring when it does happen. Overall though the game looks great and I'm pleased with how it's turned out.
The audio is good too. There are nice calming tunes to wash over Layton's puzzle solving and dramatic themes to play over Wright's deductions in the courtroom. Unsurprisingly, there's also a number of remixes from both series and yes, there is another remix of the best theme ever from Ace Attorney. Characters are all voiced nicely, though for some reason there's a different voice for Phoenix Wright than in Dual Destinies. Maya also finally has a voice, a mere eight years since she appeared on the scene. She sounds ok, but it's not quite what I expected. All in all though, PL vs AA is a great looking and sounding title.
Conclusion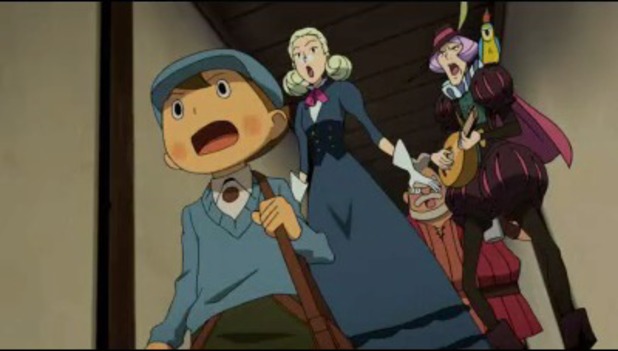 While perhaps unable to beat the best from either of the source material series, Professor Layton vs Ace Attorney is a solid reminder of what fans have come to love about both series over the years. A highly engaging story, brilliantly enjoyable characters, fun gameplay and great presentation ensure that the flaws that are present remain relatively minor. The experience is made a little bittersweet with the knowledge that it's the last adventure for either series before (allegedly) creative changes are made to both series. However, this game is a must for fans of either series, and a good starting point for anyone who's never experienced Layton or Wright before.