Alex Kidd
Let's begin with one of my favorite video game characters, Alex Kidd is the name of the protagonist of the homonymous famous SEGA game series from between the late 80's and early 90's. This figure was meant to be the SEGA's mascot, it had a great success in the Master System era, until SEGA came up with its eternal mascot Sonic the Hedgehog. After that there was no space for Alex Kidd, really sad fate for this character, recently Alex was seen in some recent SEGA titles as SEGA Superstars Tennis and Sonic & Sega All-Stars.
Many titles of the series were released for the Master System and only one for Genesis / Megadrive. I only played two, Alex Kidd in Miracle World (Master System) and Alex Kidd in the Enchanted Castle (Genesis), it was the first one which I liked most and was in fact the most popular of the series. Both games are similar, platform style moving toward from one point to another of the stage, collecting items and beating up some enemies with his gigantic hands. Its particularities were the fact of beating the bosses doing rock, paper and scissors (jan-ken-pon); also by collection the money through the stages, the players could buy some items, including a motorcycle or some kind helicopter with pedals. I recommend you to give you a try if you didn't play it yet. It was a sudden disappearance of Alex in video games, he should have had more opportunities to shine in video games.
Crash Bandicoot
From one great figure of SEGA to one of the main figures of Sony Playstation in its early days. It is him Crash the bandicoot, this character at the beginning was seen as the Playstation mascot, like Nintendo had Mario and SEGA had Sonic. There was some similarities between these characters, all of them friendly and colorful creatures and placed in the same game style. After the amazing trilogy plus a fantastic racing game for the 32bit Playstation, the series took new developers and later it was released for other platform aside of Playstation. Crash was losing is significance in video games.
What I visualize the most in my mind are the 32bit titles, great and colorful environments and the bandicoot named Crash running and jumping through the stages, breaking some wooden boxes to collect the items and defeating some creatures that were blocking is way. This it was mainly what he had to do in the main series. I want to give emphasis to Crash Team Racing, a superb racing karts game rivaling with the Mario Karts series. If you haven't played it, you should!
Through the times the interest in Crash was diminishing, new colorful heroes came into the scene, as Ratchet & Clank or Sly Cooper, but one thing is for sure Crash remains in video game history as one of the most important characters ever.
The following character isn't very well known, created in the 90's by the developer Crystal Dynamics, he is a gecko and Gex is his name. I don't know much about this green fellow, but what I remember of, is the third game of the series: Gex 3: Deep Cover Gecko.  It isn't such a great game, but it's a fun 3D platform game worthy to be played and with a weird story. Gex, a talking tiny green creature has to rescue some live action hot blonde agent (looks like Pamela in VIP or Barb Wire) from the hands of Gex's main enemy named Rez.
Gex series mocks with several elements of pop culture, as I said the last title has a 3D platform gameplay as well as it was the second title: Enter the Gecko; but the series began with a 2D gameplay style. Well, I wouldn't say Gex 3 enters in my top 50 favorite games of all time, but I know that many people in the 32bit days played this game and found it enjoyable. Since then I never heard about Gex anymore, maybe it would be fun to see a reboot or something.
Another funny dude from the 90's, this one is an odd alien creature from the planet Oddworld. Abe is a Mudokon, a slave race exploited by the mad Glukkons, and his odyssey is to rescue his colleagues Mudokons from slavery and mainly from being transformed into food inside the Rupture Farms. This happened in the first titles of the Oddworld series, which I played on the 32bit Playstation.

Abe's Oddysee and Abe's Exoddus are both great 2D platform games where the protagonist has to resolve a way, like some kind of puzzle, to rescue his fellows with life. For that to happen Abe interacts with objects, Mudokons and even with the bad guys. There's lot of stuff to do, greeting, giving orders, cry for help, whistling, farting and laugh about it, also using a special power, some kind of psychic trick to control other beings. All fun stuff that everyone should experience. There some other Oddworld titles which I haven't played yet and in fact it seems that Abe isn't the protagonist of the last Oddworld adventures, but it's coming Oddworld: New 'n' Tasty!, a remake of Abe's Oddysee and let's see if Abe gains back the attention he once had.
The last gaming protagonist featuring this list is the oldest one. From the period when Atari ruled the video game industry, Pitfall Harry in Pitfall!, released in 1982 for the Atari 2600, turned out to be a big star in video games and millions of game copies were sold. Perhaps sadly, I didn't live those days, maybe I would have appreciated.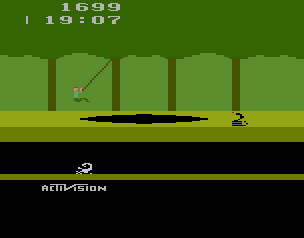 The Pitfall game I played most was Pitfall: The Mayan Adventure on Sega Genesis and it follows the same concept as the original. Pitfall Harry is like the Indiana Jones of video games, he wanders through the jungle, in 2D side scrolling style, facing several perils, like snakes, crocodiles, rolling trunks, quicksand and other stuff that tries to knock him down. In fact Pitfall! had a significant impact on the development of the platform genre. Another thing that I didn't know, the protagonist of The Mayan Adventure is Pitfall Harry son of Pitfall Harry from the original title. Whatever, the 16bit title was fun to play and the original is one of the greatest and most important games of all time. Now, no one cares or even knows who Pitfall Harry is.
Then, end of the story. These were some of the characters in video games that I found to be a bit forgotten. So my dear fellow g1 is there some character you would like to recall?