I am in a Zelda Frame of mine so the next several countdowns will be based around one of my favorite franchises! This first one is focused on my favorite items in the series. Here's the criteria I set for this list-
Usefulness
ALL items are are included, this also means the Master Sword
Enjoyable
Also, I'll be mentioning my favorite version in this countdown. Remember this is my opinion and thoughts are appreciated! Thanks!
10. Mirror Shield
My favorite version comes from Windwaker. Yeah I loved the in Ocarina of Time, but I enjoyed using the the mirror shield more in Windwaker since it helps deal with those pesky poes and other foes where as in OoT you only use it against Twinrova and other puzzles. Anyway, the fact that this item helps with puzzle solving is awesome. The reason why it's at the bottom of the list though is because other than a few areas, you don't use it as much. Still I like how multi-purpose it is.
9. Double Hookshot
I think the hookshot is a fan favorite. Hell it shows up in every game I've played! My favorite version though has to come from Twilight Princess when you get the double hookshot and are able to do things like you're able to do in City in the Sky and afterwards. Twilight Princess did an awesome job in general re-inventing items. Hope they continue this trend in the next Zelda game. I really love how you use the double hookshot against the boss in City and the Sky too. But like the previous entry, you get the double hookstot late in the game. Oh, if I had to pick a 2nd favorite version of the Hookshot, it be from A Link Between Worlds because of how you can use it in conjunction with merging into the walls.
8. Tornado Rod
Those of you who remember my favorite Dungeons will remember that House of Gales from A Link Between Worlds made the list. Well that Tornado Rod is a reason why I enjoyed it so much! Omg this this is fun to use! It gives me the feeling of flying, but it also works offensively by knocking foes back! What I really liked about ALBW was how you could get all of your items right off the bat by borrowing them but than you can fully buy them and their upgraded versions are awesome, especially this item. Anyway, the reason why it's not higher though is simply because I found the other items to be more useful.
7. Master Sword
Mastersword is pretty much iconic. And I love using it! You always feel some sense of accomplishment when you get it. It was hard for me to pick my favorite version since I love both Twilight Princess's version and A Link Between Worlds. I have to admit that TP's version is the better looking one, especially after you get the Soi powers into it. But the more useful version is definitely the LBW version especially once you start to get it upgraded, the 2nd upgrated version being the best. Why? Because of the projectile effect it creates when you're at full health. This comes in handy big time! Definitely worth going after those ores you find.
6. Bottle
There really is no favorite version since all have the same use, storage lol. I really think this item is underrated since I never see it on any item countdowns. This item is pretty much a life saver since it stores things that can save your life! Storing fairies has saved my life many times! Most of the time you have to find these bottles in an optional side quest. Sometimes you do get a bottle in the main quest, but it's only one and I can guarantee that you're going to need more than one in the game.
5. Iron Boots
I have to be honest, I didn't like the Iron Boots in Ocarina of Time. In Windwaker they were okay, but still not my favorite item to use. That all changed with Twilight Princess. I mentioned how I loved how TP reinvented certain items? Well the Iron Boots in TP won my "Most improved" items to use in the series thanks to being able to walk upside down! It's what helped me love the Goron Mines so much for me! Only downside is they're still slow and you really only use them in this dungeon. Well the ability to walk on walls and the ceiling at least. They are important in the Lakebed Temple and City in the Sky but I just love them the most in the 2nd dungeon.
4. Spinner
This has to be the funnest item to use on this list. I am no fan of the Arbiter Grounds, but its mini-boss and item made this dungeon more enjoyable. I will admit, I had no clue what kind of item this was when I first saw it. But when I saw what it could do, I went nuts over it! It reminds me too much of my favorite type of game, PINBALL! Yeah using the spinner reminds me of pinball because you use it to bounce of walls and hit objects haha. That's actually why it's high on the list even though you only use it a few other times outside the dungeon. My top 3 are not only enjoyable but more useful in the long run.
3. Boomerang
Another fan favorite that pretty much appears in every Zelda game lol. Well it's easy to see why since it's very multi-purpose. For one thing it helps get items from a distance and it's a great projectile that attacks foes. My favorite version comes from Wind Waker and it's my most used item in the game because it's useful at sea and on land. It's also the first time you can hit multiple targets, which comes in handy big time! Hell, you keep on using it even in the final dungeon. And it's still fun to use also.
2. Fire Rod
Man do I love this item from Link Between Worlds! It's so awesome!!! It not only unfreezes blockades, but it really damages foes from a distance! I use this item A LOT when I get it. It's one of the first items I upgrade when I get the chance. I hope the bring back something like it in future Zelda games. Anything that takes out a foe's defenses is a plus in my book. The only reason why it's not number 1 is simply because of all the work I had to do to get #1.
Here are honorable mentions. They're great items but just didn't make the cut.
Honorable Mention 1. Bomb Arrows
Bow and arrows are almost as iconic as the Master sword itself. I do enjoy using bow and arrows in any kind of game. The invention of bomb arrows was pretty engenius on the creators part. So why didn't I put it on the list? Well, because it really didn't blow my mind and I'd rather use items that I don't have to 'refill'. Bottles are exceptions because they're more of a life saver in my opinion and multi-purposeful. Bomb arrows are still worth a mention though.
HM2. Farore's Wind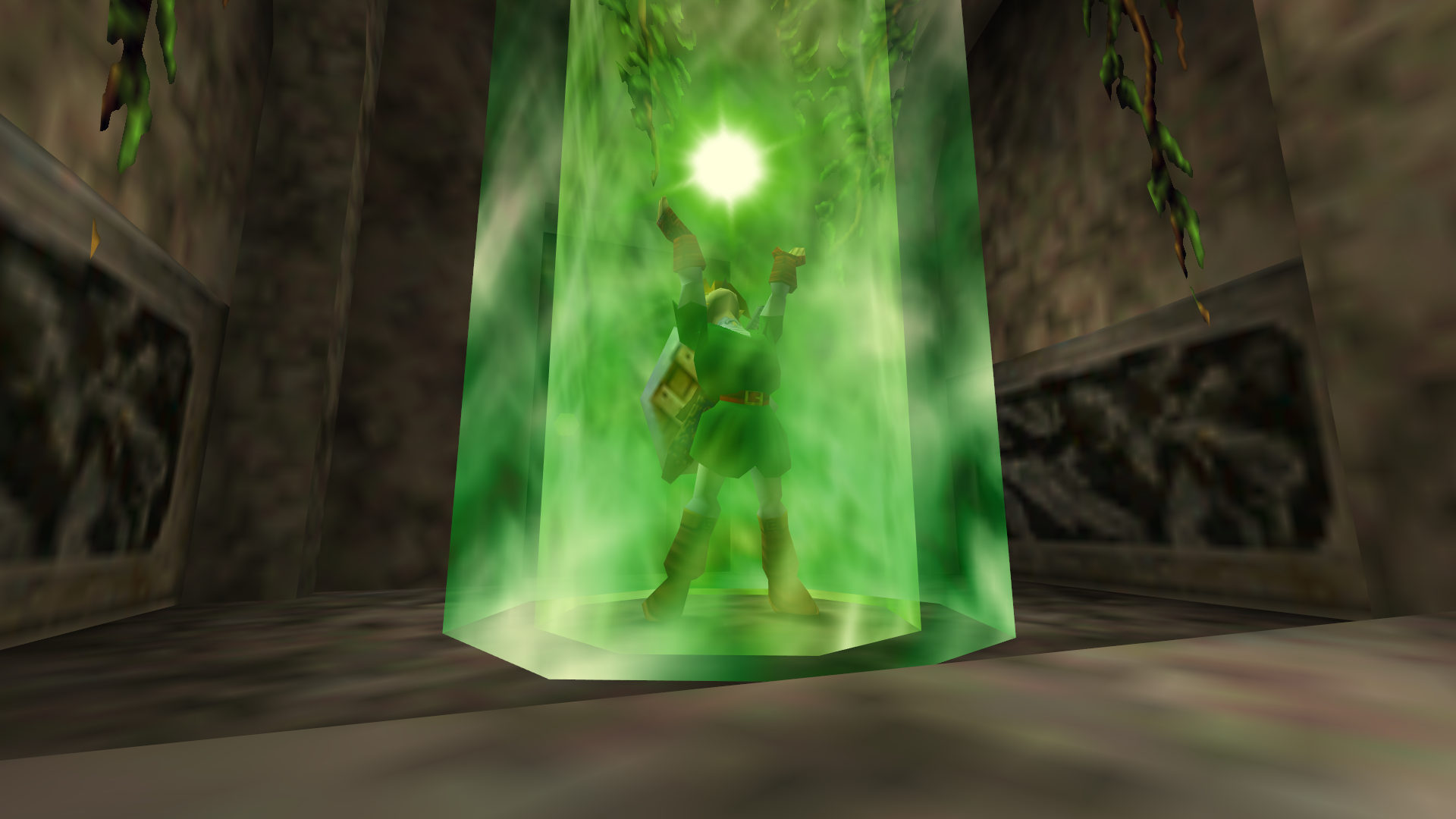 This magic spell really comes in handy in a several dungeons. It saves time from having to back track on foot, especially if you make a mistake. I really could have used this spell in other games. And because you're only limited to using this spell in dungeons, that's why it's not on actual list.
HM3. Grappling Hook
Next to the boomerang, the grappling hook is the item I use the most in Wind Waker. So why don't I have it on the list? Well, honestly because it's not as fun to use. Sure it has multiple uses, but it's fun factor isn't too high. However, since it is so useful (grabbing chests at sea, stealing items, moving from point to point), it is still worth a mention.
HM4. Ball and Chain
I had no idea that the weapon the miniboss uses in Snowpeak Ruins would be my item for this dungeon lol. This item is very handy and works as an offensive and defensive weapon. Problem is, it slows you down dramatically and you have to be quick on your feet to use it, which isn't easy. Plus you don't use it that much outside the dungeon.
HM5. Hawkeye
I think this is another item that is unappreciated. Sure it's not the most crucial item, but it becomes very useful. I always use it with my bow and arrow in Twilight Princess after I get it. It helps me hit foes more accurately that are at a distance. You can bet your boots I use it alot in City in the Sky and in the areas where I have to hit foes before they can spot me. So I definitely think it's worth a mention.
1. Biggoron Sword
Man is this sword awesome! I remember when I first got the Giant's Knife in Goron City and it turned out to be a piece of trash! I was very bummed out for sure! Well, being a fan of side quests, I decided to do the adult trading quest when I heard you do get a sword better than the master sword. Needless to say that quest was SOOOO worth it, even though I am not able to get it before I enter the Water Temple. After getting the sword, beating foes is cake walk! Sure you can't use your shield when holding it, but with it's long reach and strength, you really don't need your shield. It was only in recent years that I learned the creators made it weaker against Ganon to make sure you only use the Master Sword (when you get it back during the final fight). Very clever creators! Still because of how much work I had to do to get this item and how useful it is in defeating foes, that's why it's my favorite item.
So what did you think of my list? And what are your favorite items in the Zelda franchise?