In video games, majority of people tend not to like ice areas found in games, at least from what I've seen.  Well I am in the minority that love them.  Also, I feel the same way about Water areas, but since we're in the middle of Winter, I'd figure give my 2nd favorite season some love with my Top 10 Favorite Winter areas.  This can be anything from snow to ice.  I will be including both dungeons and regular areas.  I am only giving myself one rule though.
One area per franchise.
Also, please remember this is my opinion too and let me know what winter areas you like.
10. Weddell Sea

Game- Endless Ocean: Blue World




Man is this game so underrated.  What I love most about this game is how low key it is (for the most part, there are some tense moments in the story).  And I just love exploring all of the areas.  There are 2 areas where you have to swim in cold ocean water, the Arctic Ocean in North Canada and the Weddell Sea in the Antarctic area.  I picked Weddell Sea because there's more to do there than the Arctic, even though that area has some of my favorite wildlife in the game.  Anyway, in this particular area you can explore among the ice burgs and even find a huge underwater cave that leads to the area of that picture above.  You can even break through the water to see the 'dry area' of this cavern.  And hearing Celtic Women sing Irish Dream when you first enter this section is just so calming.  You will find plenty of wildlife here and on top of the iceburgs you will get the chance to see the Aurora Borealis if you surface at night time when the sky is clear.  Truly a lovely area to explore.

9. DK's Snowboard Cross
Game- Mario Kart Wii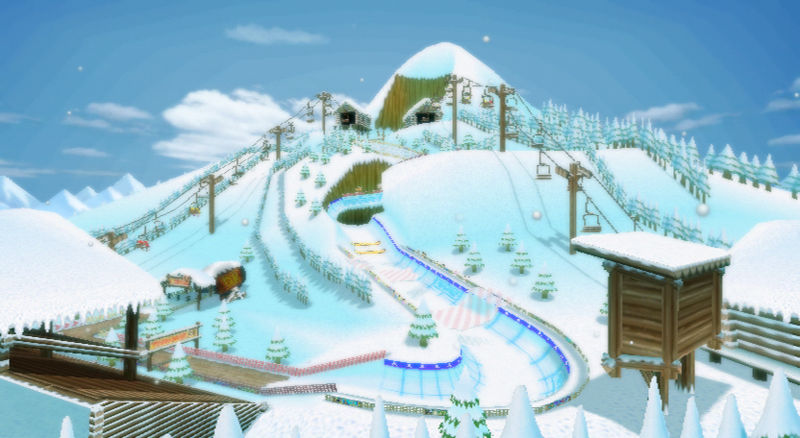 I actually had a hard time picking my favorite Winter track from the Mario Kart franchise.  It was either this one or Mount Wario.  In the end I went with this track because I had fun with it non-Stop, from being shot out of a canon to using the slops to do tricks.  My only complaint was, if this was a DK track, why did they use Mario for the huge ice figure in it?  Lol.  Oh well.  Even though the track was made out of snow, it didn't feel like snow since you are going fast (unless you run into the thicker snow areas or the shy guys).  DK tracks tend to be the most fun, so I can't wait to see what they do next in the future.

8. Sea of Ice
Game- Disney's The Little Mermaid



Well, we're certainly going back in time for this one lol.  This is actually the very first game I defeated hehe.  I am so glad that I finally have another opportunity to talk about this fun game.  Granted it's super easy and short, but I enjoyed this game a lot more than the movie it's based off of.  *Ignores all the boos*  I do blame creators of the game taking liberties with this game since 2 of the 5 areas aren't found in the movie: this level and the next, which is an Underground Volcano.  But I am not here to talk about that level.  I am here to talk about my favorite level in the game.  What I love most about Sea of Ice, is the fact I can actually slide across the ice here and it's so much fun!  The music itself is fun to listen to also.  This happens to be the first ice level I ever encountered too and seeing all of these cool ice effects was a treat.  Having to face a walrus for a boss was fun too.

7. Winter Isles
Game- Ni No Kuni: Wrath of the White Witch



One of my favorite games in recent years is Ni No Kuni: Wrath of the White Witch.  A cool feature of the locations of this game how some of them are names after the 4 seasons.  Winter isles is one of my favorite areas of the game.  It's composed of 4 major islands you can explore.  On the largest one having the village of Yule (as seen above) and Glittering Grotto, the dungeon of the area.  This winter area is so pretty!  There may not be as much to do here as in other areas you'll visit, but from doing the sidequests in Yule to facing one of my favorite bosses in the game, I had so much fun in this area.  It also gets a bit funny.  In many winter areas, you actually aren't affected by the cold, but here you area when your party arrives.  It's obvious that you get cold here and you find yourself shivering before you get to Yule, where you receive your winter wear.  Now that's attention to detail hehe.

6. Snowpeak Mountains
Game- Legend of Zelda: Twilight Princess



I've only experienced a few winter areas in the Zelda franchise.  In this case it was pretty easy for me to pick a fav, and that was hands down this one.  When you first enter the region, a snowstorm greets you and you can't see a thing.  After getting that big red fish, the only way through the snow is to use your wolf sense.  It's pretty clever way to move, especially if you try walking through this snow at first, you'll sink right on it.  But once you get to the mountain top and everything clears, I remember just being entranced by it because it was so quiet. Than you have a 180 and have to slide down the mountain, which was something I wasn't expecting and it's so much fun, before arriving at the Snowpeak Ruins, which if ya'll would recall, is one of my favorite Zelda dungeons hehe.

5. Freezeflame Galaxy
Game- Super Mario Galaxy



Ya'll had to have seen this coming if ya'll remember my favorite Mario Locations.  The "freeze" part of this galaxy is just fun and challenging to do.  Having the ability to skate on ice is a ball.  Getting to the top of the mountain area was enjoyable, but it certainly was no cake walk.  And I had to do it twice.  Mastering the high jump was critical here and taking that leap of faith from the top is always a nail biter.  The "Cold" areas in the Hot and Cold moments were not my favorite but it was interesting, but the idea of ice skating on lava was pretty cool, no pun intended.

4. Boroque
Game- Eternal Sonata



If there was a fairy tale winter kingdom, this be it.  This by far my favorite area of the game.  It's just so enchanting and serene here.  You start out in the palace (seen above) and when you see it from the outside the first time, well, it's breathtaking and I literally gaped when I saw it that first time.  It's no wonder why there's a painter outside painting it hehe.  The city itself has a few sidequests that are fun to do.  In this section I also include the nearby forest before you reach the Temple of Aria.  That one small area you walk through is my favorite area to face foes.  The music in this specific area sounds like a music box is playing is just perfect.  After the tough fight aboard that pirate ship, Baroque was like a winter vacation I really needed hehe.

3. Snowhorn Tribe Areas
Game- Starfox Adventures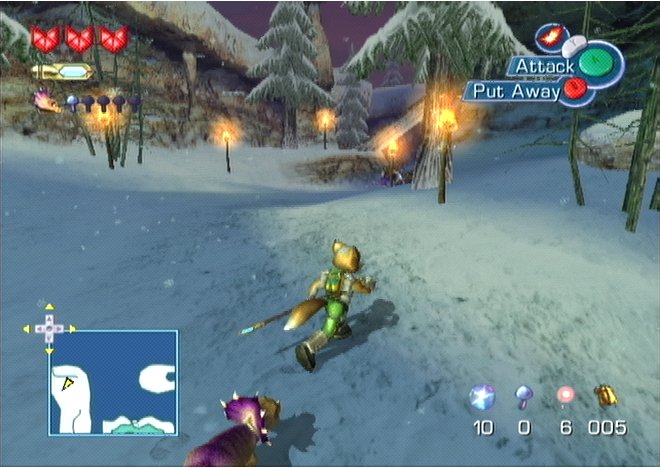 I know many people don't like this game because it's more of an adventure rpg rather than the type of game Star Fox is known for.  Seeing how I love this type of game, it never bothered me and I am so happy I can finally give this game some love.  The areas that the Snowhorn tribes watch over are 3, 2 that are on the planet of Sauria (or Dinosaur Planet in this game) and 1 that is in space.  When you are first warped to the first area, Ice Mountain, you definitely get that winter feel.  When it comes to mountain areas in general, I always think there's going to be snow.  But I fell in love with this area when you take that speed mobile down the mountain.  Granted, it's not the fastest I've gown down a mountain in a game, but it's still fun, especially with the shortcuts.  You than arrive in the main area, Snowhorn Wastes and you will be returning here the most with it's quests.  Out of all the dungeons though, Darkice Mines is my favorite.  2/3rds of it is only 'winter' so I'lll only talk about those parts.  I do enjoy the puzzles where you had figure out how to find mechanisms to move forward and at one point you find yourself riding on a snowhorn through a blizzard.  I always look forward to this dungeon.  So I really couldn't pick a favorite particular area since I loved all 3 of them.

2. St. Heim Mountains
Game- Grandia II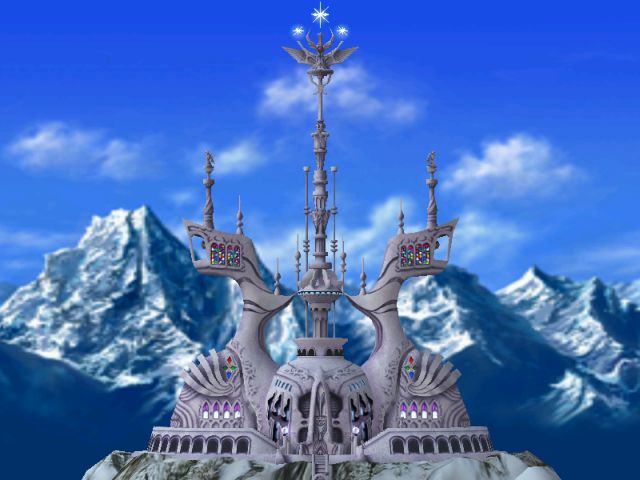 Much like how Baroque was like a vacation after a hard pirate ship fight, the St. Heim Mountains area such a relief after an emotional rollercoaster the last area before it had.  This area of the game is pretty much the turning point of the game and I love moving through this mountain area from climbing through the snowcaped mountain trails to traveling under the mountains.  And when you reach St. Heim Papal State and see that cathedral in the mountains in the background, it just is an impressive sight.  You do return to the area near the end of the game too when you have the biggest twist in story happen.  it is night when it happens and it's pretty menacing and chilling let me tell you.  It's amazing how much a location can change simply by changing the lighting.  I have to tell you, it was hard picking between this and my #1.

Before we get to #1 though, here's a few honorable mentions

Honorable Mention 1. Frost Cavern
Game- Pokemon X/Y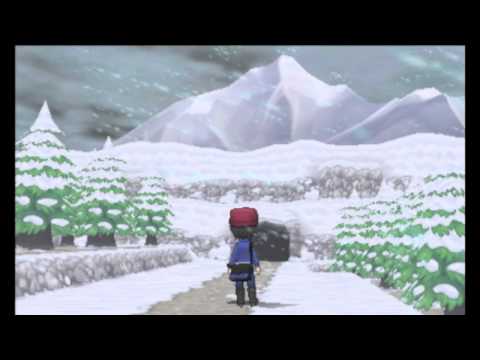 Pokemon Y is the first Pokemon game I played and I really enjoyed it.  Frost Cavern in the Mountain area of the Kalos region was a fun area also and I do remember liking the sliding areas.  Only reason why it didn't make the list though was because I initially forgot about it.

Honorable Mention 2. The Himalayas
Game- Disney's Ducktales: Remastered



Man was I excited when I found out one of my childhood favorites was getting remastered.  And man did they go all out.  While this area might have had one of my favorite visuals in the game, it's actually one of my least favorite levels due to a few annoyances like those goats.  It's still fun for the most part, but not enough to make it on the list.

Honorable Mention 3. Christmas Town
Game- Kingdom Hearts II



While I am not a fan of Nightmare Before Christmas, I do love the Halloween Town from both the first and second Kingdom Hearts games.  In II we finally get to go to Christmas Town and it was a really nice place.  But due to how little there is to do in this section of the world, I didn't put it on the list.  Darn shame, it has one of the sweetest scenes in the game as well as one of the most creative boss battles too.

1. Glacia
Game- Skies of Arcadia



Yeah, my favorite winter area comes from my 2nd favorite game of all time, Skies of Arcadia.  One thing that I loved about this game was all the versatile lands.  More than halfway through the game you end up going to the "Pole" of the world where the Purple Moon is and it's home to the Land of Ice.  In each land you find things reminiscent of the ancient civilizations.  The ancient city of Glacia was the one that blew me away the most due to it being the only one not to be destroyed by Rains of Destruction that destroyed the world.  This was due to the fact that the city existed underneath the ice.  However, the people of this land didn't survive and were pretty much wiped out.  Saddest thing is, no one knows the exact answer.  You do get hints of what the culture is like, but it still is tragic, especially when all of the other lands still had survivors.  The somber music that is played as you explore this city is haunting and fits the ghost like vibe of the area.  I love this land and the upside down buildings remind me of icicles.  Also one of the saddest and heartwarming scenes happen in this area.  So because of that and the lore and the aesthetics of this place, this is why it's my #1 pick.

Well I hoped you enjoyed that list.  I love comments so it be awesome for some feedback.  Thanks!